Where the Heart Beats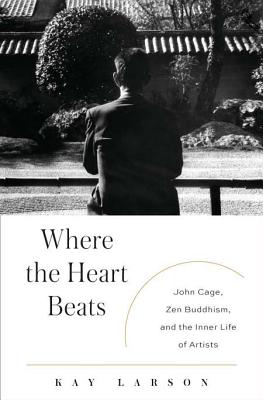 Where the Heart Beats
John Cage, Zen Buddhism, and the Inner Life of Artists
Penguin Press, Hardcover, 9781594203404, 496pp.
Publication Date: July 5, 2012
* Individual store prices may vary.
Buy at Local Store
Enter your zip code below to purchase from an indie close to you.
or
Not Currently Available for Direct Purchase
Description
A heroic and fascinating biography of John Cage showing how his work, and that of countless American artists, was transformed by Zen Buddhism ("The New York Times")"
Where the Heart Beats "is the story of the tremendous changes sweeping through American culture following the Second World War, a time when the arts in America broke away from centuries of tradition and reinvented themselves. Painters converted their canvases into arenas for action and gesture, dancers embraced pure movement over narrative, performance artists staged happenings in which anything could happen, poets wrote words determined by chance.
In this tumultuous period, a composer of experimental music began a spiritual quest to know himself better. His earnest inquiry touched thousands of lives and created controversies that are ongoing. He devised unique concerts consisting of notes chosen by chance, randomly tuned radios, and silence in the service of his absolute conviction that art and life are one inseparable truth, a seamless web of creation divided only by illusory thoughts.
What empowered John Cage to compose his incredible music and what allowed him to inspire tremendous transformations in the lives of his fellow artists was Cage's improbable conversion to Zen Buddhism. This is the story of how Zen saved Cage from himself.
"
Where the Heart Beats" is the first book to address the phenomenal importance of Zen Buddhism to John Cage's life and to the artistic avant-garde of the 1950s and 1960s. Zen's power to transform Cage's troubled mind by showing him his own enlightened nature liberated Cage from an acute personal crisis that threatened everything he most deeply cared abouthis life, his music, and his relationship with his life partner, Merce Cunningham. Caught in a society that rejected his art, his politics, and his sexual orientation, Cage was transformed by Zen from an overlooked and marginal musician into the absolute epicenter of the avant-garde.
Using Cage's life as a starting point, "Where the Heart Beats "looks beyond to the individuals Cage influenced and the art he inspired. His creative genius touched Robert Rauschenberg, Jasper Johns, Andy Warhol, Yoko Ono, Alan Kaprow, Morton Feldman, and Leo Castelli, who all went on to revolutionize their respective disciplines. As Cage's story progresses, as his collaborators trajectories unfurl, "Where the Heart Beats" shows the blossoming of Zen in the very heart of American culture.
About the Author
When she was a child, Kay Larson realized that when she was gone her family name would go with her. Her father had six sisters and she was the youngest of his six daughters. Even if she married and had children it would be highly unlikely their last name would be Larson. A book was the only thing Kay could think of to leave behind bearing her family name. Now, many years later, here is that book. It was the first entry on her Bucket List, most of which have been accomplished. One item still remaining is a 1941 Chevy pickup.