Mine All Mine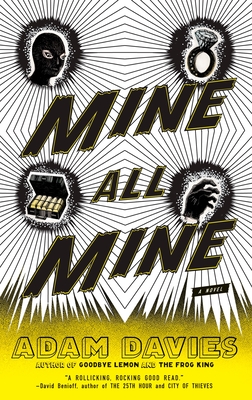 Mine All Mine
Riverhead Books, Paperback, 9781594483141, 304pp.
Publication Date: August 5, 2008
* Individual store prices may vary.
Buy Now
or
Shop Local
Enter your zip code below to purchase from an indie close to you.
Description
A dazzling and funny romantic comedy from Adam Davies, the author of "The Frog King and Goodbye Lemon."
Otto Starks is a "pulse"--a highly specialized security guard who has hyperdeveloped senses and a nervous habit of popping tabs of cyanide. Otto was once a rising star but then he was rolled three times by the notorious Rat Burglar. Now, demoted and dangerously in debt to a loan shark, all he has left is Charlie Izzo, the woman he loves. Unfortunately, she is also the Rat Burglar's zealous advocate. That's bad enough. But then Otto gets robbed yet again and the cops pronounce him the prime suspect. When Charlie disappears and Otto becomes a fugitive, he realizes that the Rat Burglar has stolen much more from him than art. And to get it back he must break the law he has devoted his life to upholding. "Mine All Mine" is a nail-biting thriller about deception, betrayal, and ownership--in art and in love.
About the Author
Adam Davies worked as an editorial assistant at Random House in New York City. He is currently an instructor at the University of Georgia.