The Renegade Sportsman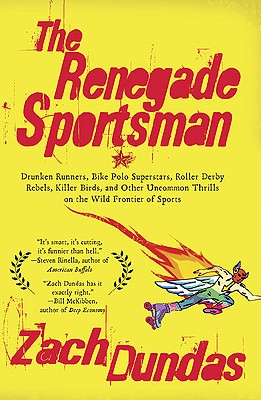 The Renegade Sportsman
Drunken Runners, Bike Polo Superstars, Roller Derby Rebels, Killer Birds, and Other Uncommon Thrills on the Wild Front
Riverhead Books, Paperback, 9781594484568, 296pp.
Publication Date: June 1, 2010
* Individual store prices may vary.
Not Currently Available for Direct Purchase
or
Shop Local
Enter your zip code below to purchase from an indie close to you.
Description
A face-first dive into America's sporting underbelly.
A lifelong sports fan, Zach Dundas asks: What happened to the fun, loud-mouthed, down-and-dirty sporting culture he always loved? Has it been replaced with performance-enhancing drugs, fat paychecks and billion dollar arenas? Of course not With a renegade's eye and a fan's resolve, Dundas scours the underground to find the games, fans, and "athletes" you won't find in the sports pages. He tracks a bicycle race across Iowa designed to confuse and downright torture its participants, chases a gaggle of runners wearing red cocktail dresses in Portland, and screams obscenities in Chicago with the rowdy fans of the DC United soccer team, and through these and other harrowing and hilarious adventures, he begins to reconnect with the thrill of sporting as he discovers a vibrant, beautiful, and thriving element of American culture-simmering right below the surface.
Watch a Video
About the Author
ZACH DUNDAS is co-executive editor of Portland Monthly magazine, a longtime journalist, and the author of The Renegade Sportsman. He is a member of the Sherlock Holmes Society of London and the Diogenes Club.