Unfamiliar Fishes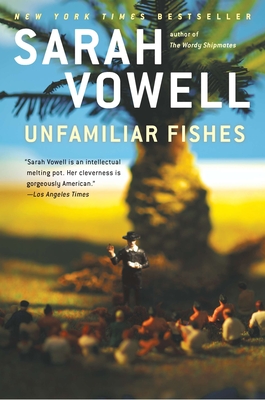 Unfamiliar Fishes
Riverhead Books, Paperback, 9781594485640, 238pp.
Publication Date: March 6, 2012
* Individual store prices may vary.
Buy at Local Store
Enter your zip code below to purchase from an indie close to you.
or
Buy Here
Description
From the author of "Lafayette in the Somewhat United States"comes an examinationof Hawaii, the place where Manifest Destiny got a sunburn.
Of all the countries the United States invaded or colonized in 1898, Sarah Vowell considers the story of the Americanization of Hawaii to be the most intriguing. From the arrival of the New England missionaries in 1820, who came to Christianize the local heathens, to the coup d'etat led by the missionaries' sons in 1893, overthrowing the Hawaiian queen, the events leading up to American annexation feature a cast of beguiling, if often appalling or tragic, characters. Whalers who fire cannons at the Bible-thumpers denying them their god-given right to whores; an incestuous princess pulled between her new god and her brother-husband; sugar barons, con men, Theodore Roosevelt, and the last Hawaiian queen, a songwriter whose sentimental ode "Aloha 'Oe" serenaded the first Hawaiian-born president of the United States during his 2009 inaugural parade.
With her trademark wry insights and reporting, Vowell sets out to discover the odd, emblematic, and exceptional history of the fiftieth state. In examining the place where Manifest Destiny got a sunburn, she finds America again, warts and all.
About the Author
Sarah Vowell is a contributing editor for public radio's "This American Life" and has written for "Time, Esquire, GQ, Spin, Salon, McSweeneys, The Village Voice, " and the "Los Angeles Times." She is the author of "Radio On, Take the Cannoli, " and "The Partly Cloudy Patriot." She lives in New York City.