Johnson's Life of London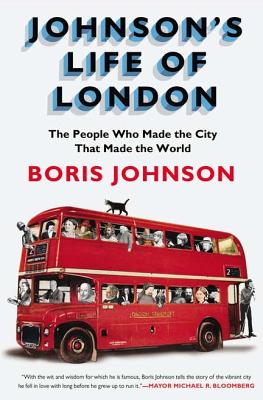 Johnson's Life of London
The People Who Made the City That Made the World
Riverhead Books, Hardcover, 9781594487477, 336pp.
Publication Date: May 31, 2012
* Individual store prices may vary.
Buy at Local Store
Enter your zip code below to purchase from an indie close to you.
or
Not Currently Available for Direct Purchase
Description
London is still the mother ship for Americans, many of whom share the opinion of its tousle-headed, bicycle-riding mayor - that indeed it's the best city in the world. And as the capital takes center of the world stage with the 2012 Olympics, who better than Boris (as he is known) to convey how London became one of the most exciting and influential places on Earth?
Wearing his brilliance and erudition with characteristic wit, Boris narrates the story of his city as a kind of relay race of outsized characters, beginning with the days when "a bunch of pushy Italians" created Londinium. He passes the torch on down through a procession of the famous and infamous, the brilliant and the bizarre - from Hadrian to Shakespeare to Florence Nightingale to the Rolling Stones- illuminating with unforgettable clarity each figure and the era he or she inhabited. He also pauses to shine a light on places and developments that have contributed to the city's incomparable vibrancy, from the flush toilet to the King James Bible. As wildly entertaining as it is informative, this is an irresistible account of the city and people that in large part shaped the world we know.
About the Author
Dr. A. Warren Dockter is a graduate of the University of Tennessee and gained his PhD at the University of Nottingham in July 2012. He has taught at the University of Exeter and the University of Worcester and was an Archives By-Fellow at Churchill College. His research interest lies in British Imperialism in the Middle East during the late nineteenth and twentieth century, encapsulating orientalism and trans-national historical approaches.
Saturday, Jun 2, 2012
In just a few weeks, the world will descend on London for the Olympic Games. NPR's Scott Simon talks with London Mayor Boris Johnson about his city and his new book, Johnson's Life of London: The People Who Made the City That Made the World. More at NPR.org