God's Hotel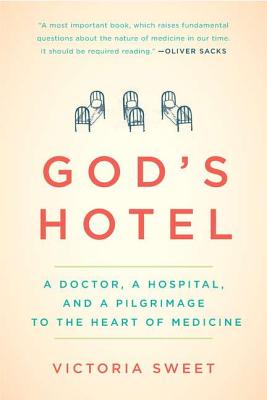 God's Hotel
A Doctor, a Hospital, and a Pilgrimage to the Heart of Medicine
Riverhead Books, Hardcover, 9781594488436, 372pp.
Publication Date: April 26, 2012
* Individual store prices may vary.
Buy Now
or
Shop Local
Enter your zip code below to purchase from an indie close to you.
Description
San Francisco's Laguna Honda Hospital is the last almshouse in the country, a descendant of the "Hotel-Dieu" (God's hotel) that cared for the sick in the Middle Ages. Ballet dancers and rock musicians, professors and thieves-"anyone who had fallen, or, often, leapt, onto hard times" and needed extended medical care-ended up here. So did Victoria Sweet, who came for two months and stayed for twenty years.
Laguna Honda, lower tech but human paced, gave Sweet the opportunity to practice a kind of attentive medicine that has almost vanished. Gradually, the place transformed the way she understood her work. Alongside the modern view of the body as a machine to be fixed, her extraordinary patients evoked an older idea, of the body as a garden to be tended. "God's Hotel" tells their story and the story of the hospital itself, which, as efficiency experts, politicians, and architects descended, determined to turn it into a modern "health care facility," revealed its own surprising truths about the essence, cost, and value of caring for body and soul.
About the Author
Victoria Sweet is an associate clinical professor of medicine at University of California, San Francisco. A prizewinning historian, she is also the author of Rooted in the Earth, Rooted in the Sky.
Praise For God's Hotel…


A Barnes & Noble and San Francisco Chronicle Best Nonfiction Book of 2012

"Transcendent… readable chapters go down like restorative sips of cool water, and its hard-core subversion cheers like a shot of gin… God's Hotel [is] a tour de force… Others have written about the relationship between time and medical care with similar eloquence and urgency, but the centuries of perspective that Dr. Sweet brings infuse the point with unforgettable clarity." –The New York Times

"A radical and inspiring alternative vision of caring for the sick." –Vanity Fair

"Engaging… You might not expect a book about San Francisco's most downtrodden patients to be a page-turner, but it is. With its colorful cast of characters battling the tide of history, God's Hotel is a remarkable journey into the essence of medicine." –San Francisco Chronicle

"Victoria Sweet writes beautifully about the enormous richness of life at Laguna Honda, the chronic [care] hospital where she has spent the last twenty years, and the intense sense of place and community that binds patients and staff there. Such community in the medical world is vanishingly rare now, and Laguna Honda may be the last of its kind… God's Hotel is a most important book which raises fundamental questions about the nature of medicine in our time. It should be required reading for anyone interested in the 'business' of healthcare – and especially those interested in the humanity of healthcare." –Oliver Sacks, M.D. author of The Man Who Mistook His Wife for a Hat and The Mind's Eye

"A beautifully written and illuminating book… [Sweet's] metaphors are poetic and hint at the mystical, but then she pulls back with the educated eye of a scientist… For both the agnostic and the believer, Sweet pinpoints the element of medicine that makes it a calling rather than a job: the unique and sustaining love that is sparked between a doctor and patient." –Jerome Groopman, The New York Review of Books

"Remarkable… [Sweet] would appreciate that it took time for me to journey to and through her work since that may be one of the many compelling messages she so eloquently, yet simply by storytelling, conveys… permitting 'tincture of time' to also do its job." –The Huffington Post

"Sweet's warm, anecdotal style shines… The author's compelling argument for Laguna Honda's philosophy of 'slow medicine' will make readers contemplate if perhaps the body should be viewed more as a garden to be tended rather than a machine to be fixed." –Kirkus (reviewed as a Best Book of 2012)

"Captivating… with this humane and thoughtful work, Sweet joins physician-authors such as Oliver Sacks, Jerome Groopman and Abraham Verghese." –The Dallas Morning News

"[A] watershed book ...Vital, exquisitely written, and spectacularly multidimensional, Sweet's clinically exacting, psychologically discerning, practical, spiritual, and tenderly funny anecdotal chronicle steers the politicized debate over health care back to medicine and compassion. –Booklist (starred review)

"Visionary… thoroughly subversive in all the best ways… This book's lessons and conclusions should challenge doctors, nurses, hospital administrators, and policy makers to stop and rethink their core beliefs." –Journal of Health Affairs

"A remarkable, poignant portrait of a committed physician on a quest to understand the heart, as well as the art, of medicine… A marvelous, arresting read." –Library Journal (starred review)

"[Our] healthcare system might function a lot better if every single American citizen, healthcare professional, politician and legislator would read Victoria Sweet's insightful, beautifully written and moving book." –Bookpage