Girls Get Curves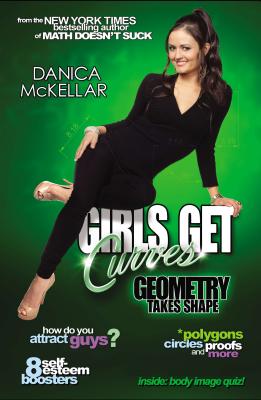 Girls Get Curves
Geometry Takes Shape
Hudson Street Press, Hardcover, 9781594630941, 413pp.
Publication Date: August 2, 2012
* Individual store prices may vary.
Buy at Local Store
Enter your zip code below to purchase from an indie close to you.
or
Not Currently Available for Direct Purchase
Description
"New York Times" bestselling author and mathemetician Danica McKellar tackles all the angles and curves of geometry
In her three previous bestselling books "Math Doesn't Suck, Kiss My Math, " and" Hot X: Algebra Exposed ," actress and math genius Danica McKellar shattered the math nerd stereotype by showing girls how to ace their math classes and feel cool while doing it.
Sizzling with Danica's trademark sass and style, her fourth book, "Girls Get Curves," shows her readers how to feel confident, get in the driver's seat, and master the core concepts of high school geometry, including congruent triangles, quadrilaterals, circles, proofs, theorems, and more
Combining reader favorites like personality quizzes, fun doodles, real-life testimonials from successful women, and stories about her own experiences with illuminating step-by-step math lessons, "Girls Get Curves" will make girls feel like Danica is their own personal tutor.
As hundreds of thousands of girls already know, Danica's irreverent, lighthearted approach opens the door to math success and higher scores, while also boosting their self-esteem in all areas of life. "Girls Get Curves "makes geometry understandable, relevant, and maybe even a little (gasp ) fun for girls.
About the Author
Danica McKellar, best known for her roles on "The Wonder Years" and "The West Wing," graduated summa cum laude in mathematics from UCLA, where she co-wrote a groundbreaking mathematical physics theorem, published in Britainas esteemed "Journal of Physics," She has spoken before Congress about the importance of women in math and continues to be an outspoken advocate for math education.
Monday, Nov 5, 2012
Women make up nearly half of the college-educated workforce, but hold less than a quarter of STEM jobs � as in jobs that involve science, technology, engineering and math. Actress turned mathematician Danica McKellar wants to turn those numbers around. She speaks to host Michel Martin about her latest math book for young girls, Girls Get Curves. More at NPR.org
Friday, Aug 17, 2012
In her newest book "Girls Get Curves: Geometry Take Shape" actress and math education advocate Danica McKellar teaches readers geometry, using her signature "girly" style. McKellar discusses the book, and tells why she chose to pair geometry lessons with tips for exercise and eating. More at NPR.org