Pride and Prejudice and Zombies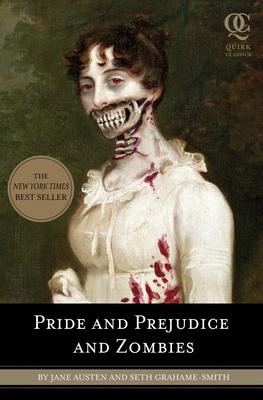 Pride and Prejudice and Zombies
The Classic Regency Romance-Now with Ultraviolent Zombie Mayhem
Quirk Books, Paperback, 9781594743344, 319pp.
Publication Date: April 2009
* Individual store prices may vary.
Buy Now
or
Shop Local
Enter your zip code below to purchase from an indie close to you.
Description
It is a truth universally acknowledged that a zombie in possession of brains must be in want of more brains.
So begins "Pride and Prejudice and Zombies," an expanded edition of the beloved Jane Austen novel featuring all-new scenes of bone-crunching zombie mayhem. As our story opens, a mysterious plague has fallen upon the quiet English village of Meryton and the dead are returning to life Feisty heroine Elizabeth Bennet is determined to wipe out the zombie menace, but she's soon distracted by the arrival of the haughty and arrogant Mr. Darcy. What ensues is a delightful comedy of manners with plenty of civilized sparring between the two young lovers and even more violent sparring on the blood-soaked battlefield. Can Elizabeth vanquish the spawn of Satan? And overcome the social prejudices of the class-conscious landed gentry? Complete with romance, heartbreak, swordfights, cannibalism, and thousands of rotting corpses, "Pride and Prejudice and Zombies "transforms a masterpiece of world literature into something you d actually want to read.
About the Author
Seth Grahame-Smith is the "New York Times "bestselling author of "Abraham Lincoln, Vampire Hunter "and "Pride and Prejudice and Zombies".""In addition to adapting the screenplay for "Abraham Lincoln, Vampire Hunter", he also wrote Tim Burton s film "Dark Shadows". He lives in Los Angeles.

Jane Austen s (1775-1817) works have enjoyed a renewed popularity in the last year with the film release of Pride and Prejudice and Sense and Sensibility - both critically acclaimed. Sir Walter Scott said, Jane Austen had that exquisite touch which renders ordinary commonplace things and characters interesting.