Sense and Sensibility and Sea Monsters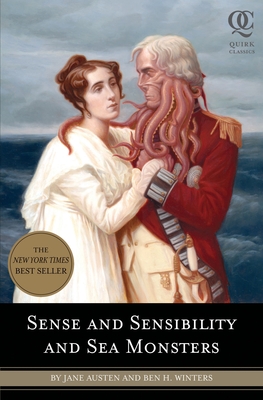 Sense and Sensibility and Sea Monsters
Quirk Books, Paperback, 9781594744426, 343pp.
Publication Date: September 15, 2009
* Individual store prices may vary.
Buy at Local Store
Enter your zip code below to purchase from an indie close to you.
or
Buy Here
Description
From the publisher of "Pride and Prejudice and Zombies "comes a new tale of romance, heartbreak, and tentacled mayhem.
"Sense and Sensibility and Sea Monsters "expands the original text of the beloved Jane Austen novel with all-new scenes of giant lobsters, rampaging octopi, two-headed sea serpents, and other biological monstrosities. As our story opens, the Dashwood sisters are evicted from their childhood home and sent to live on a mysterious island full of savage creatures and dark secrets. While sensible Elinor falls in love with Edward Ferrars, her romantic sister Marianne is courted by both the handsome Willoughby and the hideous man-monster Colonel Brandon. Can the Dashwood sisters triumph over meddlesome matriarchs and unscrupulous rogues to find true love? Or will they fall prey to the tentacles that are forever snapping at their heels? This masterful portrait of Regency England blends Jane Austen's biting social commentary with ultraviolent depictions of sea monsters biting. It's survival of the fittest and only the swiftest swimmers will find true love
About the Author
Ben H. Winters is an author and educator who has written plays and musicals for children and adults, as well as several books in the bestselling Worst-Case Scenario Survival Guide series. He is also the author of The Secret Life of Ms. Finkleman, Bedbugs, and the parody novels Android Karenina and the bestselling Sense and Sensibility and Sea Monsters. He lives in Indianapolis.

One of England s most beloved authors, Jane Austen wrote such classic novels as Pride and Prejudice, Sense and Sensibility, Emma, and Northanger Abbey. Published anonymously during her life, Austen s work was renowned for its realism, humour, and commentary on English social rites and society at the time. Austen s writing was supported by her family, particularly by her brother, Henry, and sister, Cassandra, who is believed to have destroyed, at Austen s request, her personal correspondence after Austen s death in 1817. Austen s authorship was revealed by her nephew in A Memoir of Jane Austen, published in 1869, and the literary value of her work has since been recognized by scholars around the world.