Horrorstor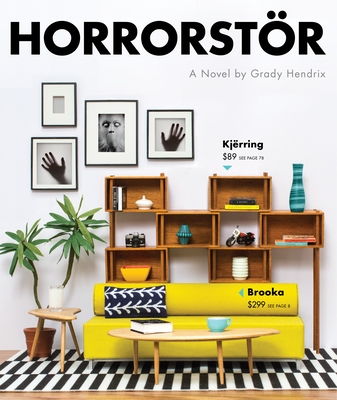 Horrorstor
Quirk Books, Paperback, 9781594745263, 240pp.
Publication Date: September 23, 2014
* Individual store prices may vary.
Buy at Local Store
Enter your zip code below to purchase from an indie close to you.
or
Buy Here
Description
Praise for the author: National treasureGrady Hendrixfollows his classic account of a haunted IKEA-like furniture showroom, Horrorstor(2014), with a nostalgia-soaked ghost story, My Best Friend's Exorcism. The Wall Street Journal
A traditional haunted house story in a thoroughly contemporary setting, Horrorstorcomes packaged in the form of a glossy mail order catalog, complete with product illustrations, a home delivery order form, and a map of Orsk's labyrinthine showroom. It's a treat for fans ofThe Evil DeadorZombieland, complete with affordable solutions for better living. Kirkus Reviews.
Something strange is happening at the Orsk furniture superstore in Cleveland, Ohio. Every morning, employees arrive to find broken Kjerring bookshelves, shattered Glans water goblets, and smashed Liripip wardrobes. Sales are down, security cameras reveal nothing, and store managers are panicking.
To unravel the mystery, three employees volunteer to work a nine-hour dusk-till-dawn shift. In the dead of the night, they ll patrol the empty showroom floor, investigate strange sights and sounds, and encounter horrors that defy the imagination.
About the Author
Grady Hendrixhas written for Variety, Slate, the New York Post, Playboy, Village Voice, Strange Horizons, and the anthologyThe Mad Scientist's Guide to World Domination.He spent several years answering the phone for a parapsychological research organization. He is currently employed by Orsk, Manhattan."