The Spiritual Gift of Madness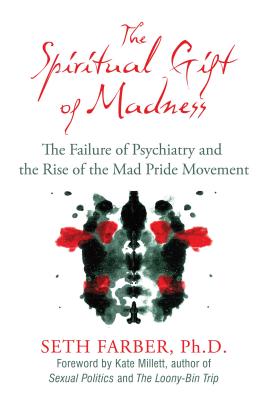 The Spiritual Gift of Madness
The Failure of Psychiatry and the Rise of the Mad Pride Movement
Inner Traditions International, Paperback, 9781594774485, 436pp.
Publication Date: April 17, 2012
* Individual store prices may vary.
Buy at Local Store
Enter your zip code below to purchase from an indie close to you.
or
Buy Here
Description
A bold call for the "insane" to reclaim their rightful role as prophets of spiritual and cultural transformation
- Explains how many of those diagnosed as schizophrenic, bipolar, and other forms of "madness" are not ill but experiencing a spiritual awakening
- Explores the rise of Mad Pride and the mental patients' liberation movement
- Reveals how those seen as "mad" must embrace their spiritual gifts to help the coming global spiritual transition
Many of the great prophets of the past experienced madness--a breakdown followed by a breakthrough, spiritual death followed by rebirth. With the advent of modern psychiatry, the budding prophets of today are captured and transformed into chronic mental patients before they can flower into the visionaries and mystics they were intended to become. As we approach the tipping point between extinction and global spiritual awakening, there is a deep need for these prophets to embrace their spiritual gifts. To make this happen, we must learn to respect the sanctity of madness. We need to cultivate Mad Pride.
Exploring the rise of Mad Pride and the mental patients' liberation movement as well as building upon psychiatrist R. D. Laing's revolutionary theories, Seth Farber, Ph.D., explains that diagnosing people as mad has more to do with social control than therapy. Many of those labeled as schizophrenic, bipolar, and other kinds of "mad" are not ill but simply experiencing different forms of spiritual awakening: they are seeing and feeling what is wrong with society and what needs to be done to change it. Farber shares his interviews with former schizophrenics who now lead successful and inspiring lives. He shows that it is impossible for society to change as long as the mad are suppressed because they are our catalysts of social change. By reclaiming their rightful role as prophets of spiritual and cultural revitalization, the mad--by seeding new visions for our future--can help humanity overcome the spiritual crisis that endangers our survival and lead us to a higher and long-awaited stage of spiritual development.
About the Author
Seth Farber, Ph.D., is a psychologist, public speaker, and a founder of the Network against Coercive Psychiatry. The author of several books, including Unholy Madness, and an editor of The Journal of Mind and Behavior, he lives in New York City.

Maryse Holder was an American feminist writer, who was the author of Give Sorrow Words. The book was published posthumously in 1979, after Holder was murdered in Mexico in 1977, at age 36.