Easy Green Living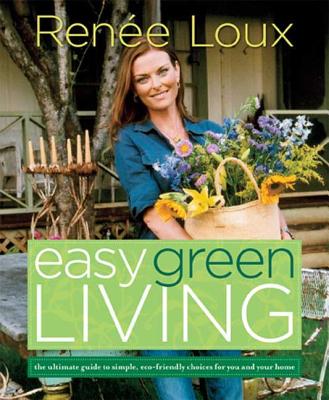 Easy Green Living
The Ultimate Guide to Simple, Eco-Friendly Choices for You and Your Home
Rodale Books, Paperback, 9781594867927, 396pp.
Publication Date: May 1, 2008
* Individual store prices may vary.
Buy Now
or
Shop Local
Enter your zip code below to purchase from an indie close to you.
Description
We are what we eat, but we also are what we use to clean our homes, pamper our skin, and decorate our rooms, according to Renee Loux, accomplished raw food chef, award-winning author, and host of Fine Living TV'"s Easy Being Green." In her new book, " Easy Green Living," she applies her whole-foods philosophy to home, garden, and beauty routines.
Renee Loux demonstrates that being green at home is easy, affordable, and better in every sense of the word. She discusses the daily choices we face that can keep the home, personal care, and beauty routines free of toxins. She exposes the dirt on cleaning products and common hazardous ingredients and reveals her recommendations for greener options, including her "Green Thumb Guides" for choosing non-toxic, eco-smart, and human-friendly products. Peppered with compelling and inspiring facts, "Easy Green Living" is full of "5 Step" lists, products and recipes for green cleaning, helpful charts, safer choices for every room, and inspirational advice so we can save the planet--one cleaning spritz at a time.
As recent special issues of "Vanity Fair," "Time," "Newsweek," and other major publications have demonstrated, going green is an idea whose time has come. Whether addressing big-picture topics like renewable energy, or offering simple suggestions for everyday living, this complete lifestyle guide shows that healthier choices don't mean a radical or complicated life change--it is, after all, easy to be green.
About the Author
Renee Loux, author of Living Cuisine and the Gourmand Award-winning "The Balanced Plate," is a celebrated (and celebrity) raw foods chef. Host of the TV show "Easy Being Green," she works as an eco-advisor for companies, spas, and hotels. Renee lives with her husband Shep Gordon in a house run on solar energy in Maui, Hawaii. Visit reneeloux.com.