Space Rocks!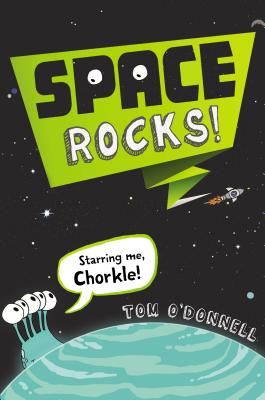 Space Rocks!
Razorbill, Hardcover, 9781595147134, 336pp.
Publication Date: February 6, 2014
* Individual store prices may vary.
Buy at Local Store
Enter your zip code below to purchase from an indie close to you.
or
Not Currently Available for Direct Purchase
Description
The thrilling intergalactic adventures of four kids in space as told by Chorkle, a hilarious alien
It all happened because of Feeney's Original Astronaut Ice Cream. Those accursed pink bars entranced me with their sugary magic But I digress . . .
Life on Gelo was fine until the fur-headed humans arrived. They invaded our peaceful asteroid with their loud drill machines and their endless greed, stealing our precious Iridium to take back to their weird looking blue-and-green planet.
Then the mothership took off and four "little" hair-heads were marooned here. But thank Jalasu Jhuk that Hollins, Becky, Nicki, and Little Gus are actually pretty cool. They have awesome gadgets like hologram games and rocket bikes, and they can pilot starships
But there's plenty the juvenile humans don t know, like how to fight a ferocious thyss-cat or ride a giant usk-lizard. They re decidedly terrible at dealing with my stink-gland.
Luckily the Earthlings have me, Chorkle, and all five of my eyes to look after them.
If only I knew how to help them get back home . . .
About the Author
Born in New York city of Scotch/Irish parents. Catholic educated is a first generation American. Still married to his first wife and has four ugly children.
Volunteering for the draft at age 18, He served in the US Army Fourth Armored Division in Germany. He is a small businessman and has been to and does business in the GCC countries. He was the first small business to arrive in Kuwait in 1993. He has a general knowledge of Arabic culture having formed a trading partnership in Kuwait with a company where a woman was the largest stockholder. He considers himself to be an average American and wrote this book to let his fellow Americans, whom he calls the silenced majority know they are not alone. His greatest fear is that the high school kids will become the tea boys of international masters, who will take their place in the universities, that they will never see.