A Patriot's History of the Modern World, Volume 2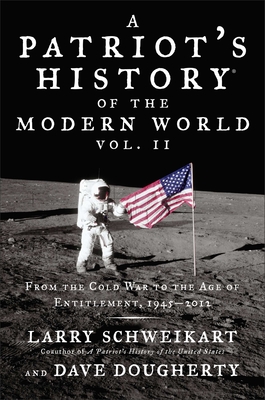 A Patriot's History of the Modern World, Volume 2
From the Cold War to the Age of Entitlement, 1945-2012
Sentinel, Hardcover, 9781595231048, 671pp.
Publication Date: December 5, 2013
* Individual store prices may vary.
Buy Now
or
Shop Local
Enter your zip code below to purchase from an indie close to you.
Description
The bestselling historians turn their focus to America's role in the world since the end of World War II
Schweikart, author of the number one "New York Times" bestseller "A Patriot's History of the United States," and Dougherty take a critical look at America, from the postwar boom to her search for identity in the twenty-first century.
The second volume of "A Patriot's History of the Modern World" picks up in 1945 with a world irrevocably altered by World War II and a powerful, victorious United States. But new foes and challenges soon arose: the growing sphere of Communist influence, hostile dictatorships and unreliable socialist allies, the emergence of China as an economic contender, and the threat of world Islamification.
The book reestablishes the argument of American exceptionalism and the interplay of our democratic pillars--Judeo-Christian religious beliefs, free market capitalism, land ownership, and common law--around the world.
Schweikart and Dougherty offer a fascinating conservative history of the last six decades.
About the Author
LARRY SCHWEIKART is a professor of history at the University of Dayton, Ohio. He is the author of several books on Western history and finance. Schweikart has also contributed articles and essays to numerous books and magazines.
BRADLEY J. BIRZER is a professor of history at Hillsdale College, Michigan, where he teaches courses on the American West, Native Americans, and Jacksonian America. He is the former editor of Montana: The Magazine of Western History and Western Historical Quarterly.