One Nation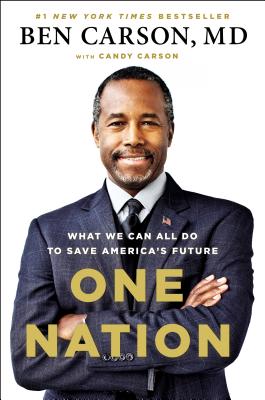 One Nation
What We Can All Do to Save America's Future
Sentinel, Hardcover, 9781595231123, 256pp.
Publication Date: May 20, 2014
* Individual store prices may vary.
Buy at Local Store
Enter your zip code below to purchase from an indie close to you.
or
Buy Here
Description
Dear Reader,
In February 2013 I gave a speech at theNational Prayer Breakfast. Standing afew feet from President Obama, I warnedmy fellow citizens of the dangers facingour country and called for a return tothe principles that made America great.
Many Americans heard and responded, but ournation's decline has continued. Today the danger isgreater than ever before, and I have never shared amore urgent message than I do now.
Our growing debt and deteriorating moralshave driven us far from the founders intent.We ve made very little progress in basic education.Obamacare threatens our health, liberty, and financialfuture. Media elitism and political correctnessare out of control.
Worst of all, we seem to have lost our abilityto discuss important issues calmly and respectfullyregardless of party affiliation or other differences.As a doctor rather than a politician, I care aboutwhat works, not whether someone has an (R) or a(D) after his or her name. We have to come togetherto solve our problems.
Knowing that the future of my grandchildrenis in jeopardy because of reckless spending, godlessgovernment, and mean-spirited attempts tosilence critics left me no choice but to write thisbook. I have endeavored to propose a road out ofour decline, appealing to every American's decencyand common sense.
If each of us sits back and expects someone elseto take action, it will soon be too late. But with yourhelp, I firmly believe that America may once againbe one nation under God, indivisible, with libertyand justice for all.
Sincerely,
Ben Carson.
About the Author
Dr. Benjamin Carson is a Professor of Neurosurgery, Plastic Surgery, Oncology, and Pediatrics, and the Director of Pediatric Neurosurgery at Johns Hopkins Medical Institutions. He is also the author of four bestselling books---Gifted Hands, Think Big, The Big Picture, and Take the Risk. He serves on the boards of the Kellogg Company, Costco Wholesale Corp., and the Academy of Achievement, among others, and is an Emeritus Fellow of the Yale Corporation. He and his wife, Candy, cofounded the Carson Scholars Fund (www.carsonscholars.org), a 501(c)3 established to counteract America's crisis in education by identifying and rewarding academic role models in the fourth through eleventh grades, regardless of race, creed, religion and socio-economic status, who also demonstrate humanitarian qualities. There are over 4800 scholars in forty-five states. Ben and Candy are the parents of three grown sons and reside in Baltimore County, Maryland. SPANISH BIO: El Dr. Benjamin Carson es profesor de neurocirugia, cirugia plastica, oncologia y pediatria, y director de neurocirugia pediatrica en las Instituciones Medicas John Hopkins. Tambien es autor de tres libros, exitos de ventas: Gifted Hands. Piense en grande, y The Big Picture. Sirve en las juntas directivas de Kellogg Company, Costo, Wholesale Corp y American Promise, entre otras, y es Miembro Emerito de la Yale Corporacion. El y su esposa Candy son padres de tres hijos adultos y viven en el condado de Baltimore, Maryland.

Candy Carson is the co-founder (with her husband Ben) of the Carson Scholars Fund, a charity that recognizes and rewards high academic achievement and demonstrated humanitarian qualities. This organization was created in response to the US crisis in education. With the over 4300 scholars in 42 states, peers of the scholarship winners are now striving for higher academic results as well. Candy also serves on the board of the Shriver Concert Series of Johns Hopkins University. She has worked in editing, trust administration, insurance, and real estate, having earned her Masters in Business from Johns Hopkins. While her 3 sons were in their early teen years, she along with them formed the Carson 4, a string quartet which has performed at churches, and community and charitable events, nationally and internationally. In her spare time, Candy still enjoys reading books and reading music on violin and piano. She writes for THINK BIG, the newsletter for the Carson Scholars Fund, and conducts the University of Maryland Medical Center Chamber Players.
Praise For One Nation…
"His groundbreaking contributions to medicine and his inspiring efforts to help America's youth fulfill their potential have strengthened our Nation." —Presidential Medal of Freedom, 2008

"The Johns Hopkins neurosurgeon may not be politically correct, but he's closer to correct than we've heard in years."
—The Wall Street Journal

"Dr. Carson prescribes a dose of 'tough love' to cure the nation's ills and restore our faith in government and ourselves." —Sam Donaldson 
"A speech worthy of Booker T. Washington. . . . The beauty of Carson's argument exceeds its simplicity."
—Jonah Goldberg, National Review