Lies the Government Told You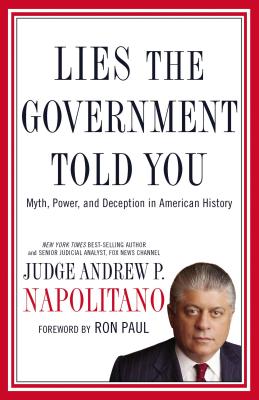 Lies the Government Told You
Myth, Power, and Deception in American History
Thomas Nelson Publishers, Hardcover, 9781595552662, 349pp.
Publication Date: March 2, 2010
* Individual store prices may vary.
Buy Now
or
Shop Local
Enter your zip code below to purchase from an indie close to you.
Description
YOU VE BEEN LIED TO BY THE GOVERNMENT
We shrug off this fact as an unfortunate reality. America is the land of the free, after all. Does it really matter whether our politicians bend the truth here and there?
When the truth is traded for lies, our freedoms are diminished and don t return.
In "Lies the Government Told You," Judge Andrew P. Napolitano reveals how America's freedom, as guaranteed by the U.S. Constitution, has been forfeited by a government more protective of its own power than its obligations to preserve our individual liberties.
Judge Napolitano's tremendous knowledge of American law, history, and politics, as well as his passion for freedom, shines through in "Lies the Government Told You," as he details how throughout American history, politicians and government officials have betrayed the ideals of personal liberty and limited government."
Congressman Ron Paul, M.D. (R-TX), from the "Foreword"
About the Author
Judge Andrew P. Napolitano is Fox News Channel's senior judicial analyst, currently seen by millions of viewers weeknights on The Big Story and The O'Reilly Factor. Napolitano is the youngest person in New Jersey history to receive a lifetime judgeship. He is bright (graduate of Princeton and Notre Dame Law School), articulate (four times voted most outstanding professor at the two law schools at which he taught), and broadcast-experienced (as a daily fixture on Fox News Channel since 1998). He is the author of Constitutional Chaos and The Constitution In Exile.