All Pro Dad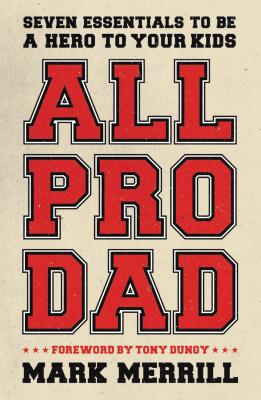 All Pro Dad
Seven Essentials to Be a Hero to Your Kids
Thomas Nelson Publishers, Paperback, 9781595555076, 222pp.
Publication Date: April 30, 2012
* Individual store prices may vary.
Buy at Local Store
Enter your zip code below to purchase from an indie close to you.
or
Buy Here
Description
An NFL player becomes an All-Pro by relentlessly focusing on the fundamentals and executing them with sheer determination.The same is true to become an All Pro Dad. This book not only highlights the fundamentals of fatherhood, but also gives dads a winning game plan to do their most important job well. Tony Dungy, Super Bowl winning coach and NBC Sports commentator
Thegame-winning playbook for every father
Dads, do you want to be a hero to your kids? A go-to coach for your teens? A husband your wife knows she can count on? All Pro Dad lays out a game plan built on seven essential fathering truths and ultra-practical insights for the questions every dad needs answered at some point. Like football, fatherhood is about winning. But it's more than just scoring points. It's about winning the hearts and minds of your children and leaving a rich legacy of love for future generations.
With gut-level huddle questions to ask your children, and firsthand stories from well-recognized dads (CBS broadcaster James JB Brown, Chick-Fil-A founder and CEO S. Truett Cathy, Grammy Award winning recording artist Michael W. Smith, FedEx Express COO and president, international, Michael Ducker, and more), All Pro Dad will stir you, equip you, and inspire you toward the goal of being a champion father and a hero to your kids.
About the Author
Mark Merrill is the founder and president of Family First, a widely respected national non-profit organization dedicated to strengthening the family. Mark hosts the Family Minute with Mark Merrill, a national daily radio program. He has appeared on NBC s Today Show, numerous ABC, CBS, FOX and NBC network affiliates and network radio programs including NPR, CBS Radio, and the Canadian Broadcasting Network.His comments and writings have appeared in publications including USA Today, the Washington Times, and Sports Illustrated . As an energetic advocate for the family, Mark speaks at conferences and events hosted by major companies, NFL teams, as well as special engagements for dignitaries.Before founding Family First in 1991, Mark practiced law in Florida for seven years.Mark, his wife, Susan, and their five children live in Tampa, Florida.

Tony Dungy and his wife Lauren Dungy are active members of a number of family, faith, and community-based organizations, including All Pro Dad, iMom, Fellowship of Chrstian Athletes, Mentors for Life, Family First, Big Brothers Big Sisters of America, and the Boys and Girls Club of America. Tony is a former NFL player and retired head coach of the 2006 Superbowl Champions, the Indianapolis Colts of the National Football League.