Running for My Life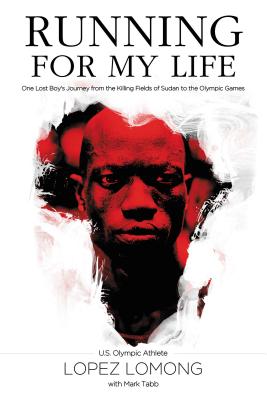 Running for My Life
One Lost Boy's Journey from the Killing Fields of Sudan to the Olympic Games
Thomas Nelson Publishers, Hardcover, 9781595555151, 229pp.
Publication Date: July 2012
* Individual store prices may vary.
Shop Local
Enter your zip code below to find indies closest to you.
Description
"Running for My Life" is not a story about Africa or track and field athletics. It is about outrunning the devil and achieving the impossible faith, diligence, and the desire to give back. It is the American dream come true and a stark reminder that saving one can help to save thousands more.
Lopez Lomong chronicles his inspiring ascent from a barefoot lost boy of the Sudanese Civil War to a Nike sponsored athlete on the US Olympic Team. Though most of us fall somewhere between the catastrophic lows and dizzying highs of Lomong's incredible life, every reader will find in his story the human spark to pursue dreams that might seem unthinkable, even from circumstances that might appear hopeless.
"Lopez Lomong's story is one of true inspiration. His life is a story of courage, hard work, never giving up, and having hope where there is hopelessness all around. Lopez is a true role model." ?MICHAEL JOHNSON, Olympic Gold Medalist
"This true story of a Sudanese child refugee who became an Olympic star is powerful proof that God gives hope to the hopeless and shines a light in the darkest places. Don't be surprised if after reading this incredible tale, you find yourself mysteriously drawn to run alongside him." ?RICHARD STEARNS, president, World Vision US and author of "THe Hole in Our Gospel.
About the Author
Lopez Lomong was born in 1985 in Kimotong, Sudan. He was naturalized as an American citizen in 2007, and graduated from Northern Arizona University in 2011. He continues to train for the Olympic games and spends the rest of his time doing work through the Lopez Lomong Foundation, improving the lives of other innocent casualties of the Sudanese Civil War.

Mark is author of over fifteen books, including Living with Less, The Upside of Downsizing Your Life (B&H), and Own Your Faith (TH1NK). His collaborative works include the New York Times bestseller, The Unusual Suspect with Stephen Baldwin (FaithWords). In addition to his work as a writer, Mark is a volunteer firefighter and serves as chaplain for his local fire department. He and his family and their two dachshunds live in Indiana. To learn more, visit his website, www.marktabb.com.