The Happiest Life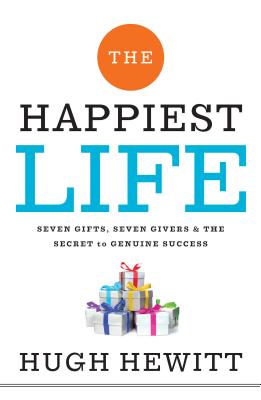 The Happiest Life
Seven Gifts, Seven Givers, and the Secret to Genuine Success
Nelson Books, Hardcover, 9781595555786, 178pp.
Publication Date: January 7, 2014
* Individual store prices may vary.
Buy Now
or
Shop Local
Enter your zip code below to purchase from an indie close to you.
Description
What's the secret to a life of happiness?
"In this delightful book brimming with humorous and poignant passages, radio personality Hugh Hewitt provides the answer. The starting place is generosity, he says, and there are seven gifts that are sure to improve the lives of both giver and receiver: encouragement, energy, enthusiasm, good humor, graciousness, gratitude, and patience.
Anyone can give these gifts, but Hewitt shows that some people are particularly well placed to offer them: parents, spouses, family members, friends, teachers, coworkers, and fellow church members.
Channeling his skills as a broadcaster, journalist, lawyer, and teacher, Hewitt weaves stories about these seven gifts and seven givers with inspiring and motivating observations to help readers become generous in the ways that matter most.
""The Happiest Life"is not simply a delight to read, and not merely a glimpse under the hood of a remarkable man. It's a map to what Robert Frost once described as the road less traveled the road that leads to a life of meaning and gratitude and joy.
Charles J. Chaput, O.F.M. Cap., Archbishop of Philadelphia
"Reading this bookis the next best thing to sitting down for a longconversation with my friendHugh Hewitt.
Dr. R. Albert Mohler, Jr., president of the Southern BaptistTheological Seminary
Wanna be a happier person? Know anyone else who does? What if this book could actually help with that? Cutting to the chase it can. And it will."
Eric Metaxas, "New York Times"best-selling author of"Bonhoeffer: Pastor, Martyr, Prophet, Spyand7 Men: And the Secret of Their Greatness.
About the Author
Hugh Hewitthosts a nationally syndicated radio program heard daily in more than one hundred cities. Hewitt is a professor of law at Chapman University and a partner in the law firm Hewitt Wolensky McNulty & Hickson LLP. He is the author of more than a dozen books and is a columnist for theWashington Examinerand Townhall.com and blogs daily at HughHewitt.com. Hewitt is a graduate of Harvard College and the University of Michigan Law School.