A People's History of Sports in the United States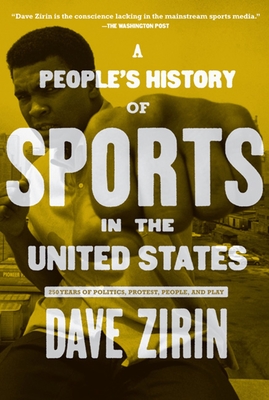 A People's History of Sports in the United States
250 Years of Politics, Protest, People, and Play
New Press, Paperback, 9781595584779, 302pp.
Publication Date: October 1, 2009
* Individual store prices may vary.
Buy at Local Store
Enter your zip code below to purchase from an indie close to you.
or
Buy Here
Description
In this long-waited book from the rising superstar of sportswriting, whose blog "Edge of Sports" is read each week by thousands of people across the country, Dave Zirin offers a riotously entertaining chronicle of larger-than-life sporting characters and dramatic contests and what amounts to an alternative history of the United States as seen through the games its people played. Through Zirin's eyes, sports are never mere games, but a reflection of--and spur toward--the political conflicts that shape American society.
Half a century before Jackie Robinson was born, the black ballplayer Moses Fleetwood Walker brandished a revolver to keep racist fans at bay, then took his regular place in the lineup. In the midst of the Depression, when almost no black athletes were allowed on the U.S. Olympic team, athletes held a Counter Olympics where a third of the participants were African American.
"A People's History of Sports in the United States" is replete with surprises for seasoned sports fans, while anyone interested in history will be amazed by the connections Zirin draws between politics and pop flies. As Jeff Chang, author of "Can't Stop Won't Stop," puts it, "After you read him, you'll never see sports the same way again."

About the Author
Dave Zirin was named one of the "50 Visionaries Who Are Changing Our World" by Utne Magazine. He writes about the politics of sports for the "Nation" magazine, and is their first sports writer in 150 years of existence. Zirin is also the host of Sirius XM satellite's popular weekly show, "Edge of Sports Radio," as well as a columnist for SLAM Magazine, the "Progressive", and a regular op-ed writer for "the Los Angeles Times". Zirin's previous books are What's My Name, Fool? Sports and Resistance in the United States; Welcome to the Terrordome: The Pain, Politics, and Promise of Sports; The Muhammad Ali Handbook; and A People's History of Sports in the United States.