All That We Share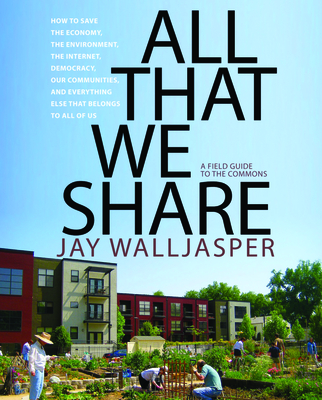 All That We Share
How to Save the Economy, the Environment, the Internet, Democracy, Our Communities, and Everything Else That Belongs t
New Press, Paperback, 9781595584991, 268pp.
Publication Date: December 7, 2010
* Individual store prices may vary.
Buy at Local Store
Enter your zip code below to purchase from an indie close to you.
or
Buy Here
Description
How you see the world is about to change. All That We Share is a wake-up call that will inspire you to see the world in a new way. As soon as you realize that some things belong to everyonewater, for instance, or the Internet or human knowledgeyou become a commoner, part of a movement that's reshaping how we will solve the problems facing us in the twenty-first century.

Edited by award-winning journalist Jay Walljasper, All That We Share is an indispensable introduction to fresh ideas that touch all of us. Filled with practical solutions for today's economic, political, and cultural issues, it's a much-needed and thoroughly accessible field guide to the new world of the commons. Including success stories from communities across the country and around the world, this book is for anyone seeking new ways of thinking about our shared values.

All that we share is all we need to change the world.
About the Author
Walljasper has been an editor and executive editor, and is currently editor-at-large.

Bill McKibben is American author of a dozen books about the environment, beginning with The End of Nature in 1989, which is regarded as the first book for a general audience on climate change. He is a founder of the grassroots climate campaign 350.org, which has coordinated 15,000 rallies in 189 countries since 2009. Time Magazine called him "the planet's best green journalist," and the Boston Globe said in 2010 that he was "probably the country's most important environmentalist." McKibben is a frequent contributor to various magazines including The New York Times, The Atlantic Monthly, Harper's, Orion Magazine, Mother Jones, The New York Review of Books, Granta, Rolling Stone, and Outside. He is also a board member and contributor to Grist Magazine. McKibben has been awarded Guggenheim and Lyndhurst Fellowships, and won the Lannan Prize for nonfiction writing in 2000. He is a scholar in residence at Middlebury College.