The Indispensable Zinn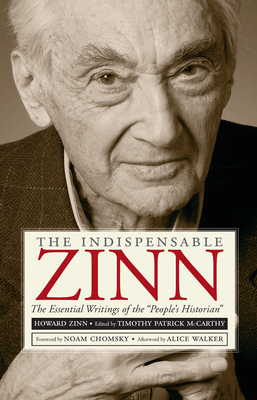 The Indispensable Zinn
The Essential Writings of the "People's Historian"
New Press, Paperback, 9781595586223, 496pp.
Publication Date: May 29, 2012
* Individual store prices may vary.
Buy at Local Store
Enter your zip code below to purchase from an indie close to you.
or
Buy Here
Description
When the historian Howard Zinn died in early 2010, millions mourned the loss of one of our foremost intellectual and political guides: a historian, activist, and truth-teller who, in the words of the New York Times's Bob Herbert, peel[ed] back the rosy veneer of much of American history."

Designed to highlight Zinn's most important writings, The Indispensable Zinn includes excerpts from Zinn's bestselling A People's History of the United States; his memoir, You Can't Be Neutral on a Moving Train; his inspiring writings on the civil rights movement; and the full text of his celebrated play Marx in Soho. Noted historian and activist Timothy Patrick McCarthy provides essential historical and biographical context for each selection.

With an introduction from Zinn's former Spellman College student and longtime friend Alice Walker and an afterword by Zinn's friend and colleague Noam Chomsky, The Indispensable Zinn is both a fitting tribute to the legacy of a man whose work changed the way millions of people saw the past" (Noam Chomsky) and a powerful and accessible introduction for anyone discovering Zinn for the first time.
About the Author
Howard Zinn (1922 2010) was a historian, playwright, and social activist. In addition to A People s History of the United States, which has sold more than two million copies, he is the author of many books, including the autobiography You Can t Be Neutral on a Moving Train, The People Speak, and Passionate Declarations.

Timothy Patrick McCarthy is Lecturer on History and Literature and on Studies of Women, Gender, and Sexuality at Harvard University. He is co-editor, with John McMillian, of "The Radical Reader" (The New Press). John Stauffer teaches English and American civilization, also at Harvard. His first book, "The Black Hearts of Men", won the 2002 Frederick Douglass Prize for the Best Book on Slavery. They both live in Cambridge, Massachusetts. Michael Fellman is Professor of Liberal Studies at Simon Fraser University and author of "Twisting the Cross". Martin Duberman is Distinguished Professor Emeritus of History at CUNY and the author of some twenty books, including "Paul Robeson" (The New Press).

ALICE WALKER is an internationally celebrated writer, poet, and activist whose books include seven novels, four collections of short stories, four children s books, and volumes of essays and poetry. She won the Pulitzer Prize in Fiction in 1983 and the National Book Award.