Bill Moyers Journal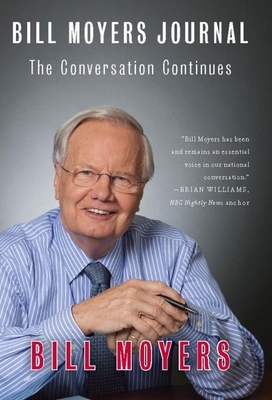 Bill Moyers Journal
The Conversation Continues
New Press, Hardcover, 9781595586247, 594pp.
Publication Date: May 17, 2011
* Individual store prices may vary.
Buy at Local Store
Enter your zip code below to purchase from an indie close to you.
or
Buy Here
Description
One of the highest-rated public affairs programs on public television, Bill Moyers Journal drew up to two million weekly viewers from 2007 to 2010. Through incisive, morally engaging conversations with some of the leading political figures, writers, activists, poets, and scholars at work today, the Journal captured the essence of the past three pivotal years in American life and politics, including the final act of the Bush Administration and the early years of Obama.

Now, Bill Moyers Journal: The Conversation Continues brings this groundbreaking work to the page. From Michael Pollan, David Simon, and Jane Goodall to John Grisham, Karen Armstrong, and Barbara Ehrenreich, Bill Moyers Journal: The Conversation Continues introduces the ideas that matter today—on subjects as diverse as the politics of food, race in the age of Obama, aging in America, the power of poetry, wars in the Middle East and Afghanistan, the conflict over gay marriage, and the fate of the American newspaper.

With extensive new commentary from Bill Moyers—in the tradition of his national bestsellers A World of Ideas and Healing and the Mind—here is an unparalleled guide to the debates, the cultural currents, and above all the fascinating people who have so powerfully shaped the world we live in.
About the Author
Jeff Clements is a cofounder of Free Speech for People, a nonpartisan campaign working to reverse Citizens United, restore equal citizenship for all Americans, and reform corporate law. As an attorney, Jeff has represented and advocated for people, businesses, and the public interest since 1988. In 2012, he cofounded Whaleback Partners LLC, a funding partner for businesses engaged in sustainable food, agriculture, and local economies.

Michael Winship is Howard Regents Professor of English II at the University of Texas at Austin and author of "American Literary Publishing in the Mid-Nineteenth Century: The Business of Ticknor and Fields".


Praise For Bill Moyers Journal…
Readers of his new book will feast on four dozen wide-ranging conversationswhich brim with big ideas and deep insights. Provocative, absorbing and necessary."
Minneapolis Star Tribune

"Culled from Moyers's third PBS series, which ran from 2007 to 2010, there's no small talk or superficiality in these interviews with 47 'independent thinkers.' The topics are far-reaching (faith, populism, the Israeli occupation of Gaza, aging, lynching in America, health care, capitalism, capital punishment, lobbyists in Washington), and the guest list is wide-ranging (pediatrician Margaret Flowers, biologist E. O. Wilson, historian Howard Zinn, economist Victor Greidel, writer David Simon, minister Jeremiah Wright, lawyer Philippe Sands, journalist Victor Gold, novelist John Grisham, theologian James Cone). Karen Armstrong urges us to find the commonalities in diverse religious traditions, notably compassion. Jeremy Scahill alerts us that Blackwater's Eric Prince 'is a man who is building up nothing short of a parallel national security apparatus.' John Lithgow shares some of his favorite poems; Jane Goodall turns one's attention to the animal world. In an era of much instant and ephemeral talk, it is a pleasurable thing to hold this 'book of ideas.' These challenging, engaged conversations reward the reader's serious attention. There are no sound bites here, just food for thought."
Publishers Weekly

Starred Review. "The PBS series Bill Moyers Journal aired weekly from 2007 to 2010, capturing discussions of pivotal issues at the close of the Bush administration and the start of the Obama era. This companion book recaptures those compelling discussions on issues that matter, covering politics, economics, race, foreign policy, and the environment. Among the 47 interviews are Michael Pollan on our unsustainable food producing and eating habits; Robert Wright on the evolution of religion and why there's hope for an end to religious wars; David Simon, creator of The Wire, on the war on drugs as a war on the underclass; John Lithgow on acting in the play All My Sons and the gut-wrenching immediacy of war profiteering; journalist William Greider on Wall Street corruption; and Michelle Alexander and Bryan Stevenson on mass incarceration of minorities in the U.S. The collection also includes Sam Tanenhaus and Victor Gold expounding on the death of traditional conservatism, and Nikki Giovanni, Martin Espada, and Maxine Hong Kingston reading poetry and discussing the impact of literature on society. Each interview is preceded by background on the interview subject and the context of the conversation. In the style for which he's known, Moyers probes with respect, intelligence, curiosity, humor, and graciousness."
Booklist
Monday, May 23, 2011
From 2007 to 2010, PBS's Bill Moyers Journal drew a loyal audience to its coverage of politics, public controversy and the arts. Now, in a new book, longtime host Bill Moyers shares memorable interviews from his third PBS show. More at NPR.org