Lightning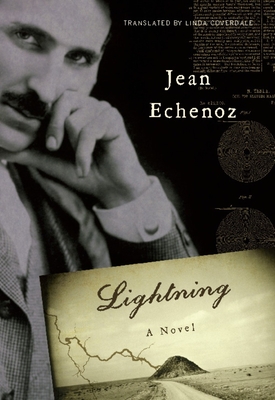 Lightning
New Press, Hardcover, 9781595586490, 142pp.
Publication Date: May 31, 2011
* Individual store prices may vary.
Buy Now
or
Shop Local
Enter your zip code below to purchase from an indie close to you.
Description
Drawn from the life of Nikola Tesla, one of the greatest inventors of his time,
Lightning is a captivating tale of one man's curious fascination with the marvels of science.

Hailed by the Washington Post as the most distinctive voice of his generation," Echenoz traces the notable career of Gregor, a precocious young engineer from Eastern Europe, who travels across the Atlantic at the age of twenty-eight to work alongside Thomas Edison, with whom he later holds a long-lasting rivalry. After his discovery of alternating current, Gregor quickly begins to astound the world with his other brilliant inventions, including everything from radio, radar, and wireless communication to cellular technology, remote control, and the electron microscope.

Echenoz gradually reveals the eccentric inner world of a solitary man who holds
a rare gift for imagining devices well before they come into existence. Gregor is a recluse—an odd and enigmatic intellect who avoids women and instead prefers spending hours a day courting pigeons in Central Park.

Winner of the IMPAC Dublin Literary Award, Echenoz once again demonstrates
his astonishing abilities as a prose stylist as he vividly captures the life of an isolated genius. A beautifully crafted portrait of a man who prefers the company of lightning in the Colorado desert to that of other human beings, Lightning is a dazzling new work from one of the world's leading contemporary authors.
About the Author
Jean Echenoz est ne a Orange en 1947. Il a obtenu le prix Medicis en 1983 pour "Cherokee" et le prix Goncourt en 1999 pour "Je m en vais."
Toute son oeuvre est publiee aux Editions de Minuit. Pour Audiolib, il a lu "Courir", et "Des eclairs."
Linda Coverdale is the awarding-winning translator of many French works and has been honored with the title of Chevalier of the Order of Arts and Letters for her contribution to French literature.
Praise For Lightning…
"Echenoz captures the spare beauty of Tesla, this often-drawn and much-translated figure, till his death at 86. He is a lean ghost in the history of power, electricity and invention. Echenoz fixes him even more firmly in our imaginations."
—Los Angeles Times

Starred Review. Not many nineteenth-century inventors would first dazzle an employer with unprecedented feats of electrical engineering and then relieve that employer from the unexpected burden of paying promised premiums for those feats by tearing up a contract worth millions. But readers meet such a rare genius in this engrossing novel, a finely etched fictional portrait of Nikola Tesla (here depicted as Gregor), a talented immigrant who begins life in the U.S. as an underpaid troubleshooter for Thomas Edison but whose exceptional gifts eventually make him Edison's formidable rival. But readers see much more than the extensively chronicled Edison-Tesla rivalry. Probing deep into Tesla's tangled psyche, Echenoz illuminates unexpected tensions. Fearless when enveloped by lightening, Gregor quails before an admiring woman. Able to penetrate the most elusive secrets of high-voltage power, he yields to the wildest delusions, succumbing to fantasies of Martian contacts and of Death-Ray weaponry. And, finally, this complex man, a human meteor who soars into America's cultural stratosphere, sharing social space with John Pierpont Morgan and Mark Twain, carelessly tumbles into oblivion, keeping company mostly with park pigeons. Coverdale's nuanced translation of Echenoz's highly successful French original permits English-speaking readers to contemplate the human mystery that persists long after the scientific puzzles have been solved.
Booklist

The affecting story of a difficult and misunderstood European visionary on American shores comprises this lyrical, slender novel by Prix Goncourtwinner Echenoz (Running). Born during a lightning storm "somewhere in southeastern Europe" in the mid-19th century, Gregor has many wonderfully inventive ideas from an early agea rapid mail tube running under the Atlantic Ocean, harnessing the power of Niagara Falls for energy and soon the bright young engineer lands in America, where he ends up working with Thomas Edison, who is less than convinced by Gregor's ideas about alternating current. George Westinghouse, however, is intrigued, and as AC becomes the electrical standard, everybody gets rich, even Gregor, for a while. However, with each succeeding electrical marvel, described by an admiring omniscient narrator who admits to being "mystified" by science, Gregor is increasingly dismissed as a crackpot, and other less than scrupulous inventors make off with his world-altering inventions. Echenoz constructs a sympathetic, stylized portrait of an isolated genius stricken by obsessive compulsiveness, a friend only to pigeons at the end.
Publishers Weekly
Thursday, Jun 30, 2011
Veteran French novelist Jean Echenoz knows genius when he sees it, says our book commentator Alan Cheuse. His new novel, called Lightning, is a brisk and enlightening fictional rendering of the life of the Balkan born, long-time American inventor Nikola Tesla. More at NPR.org