The Last Gun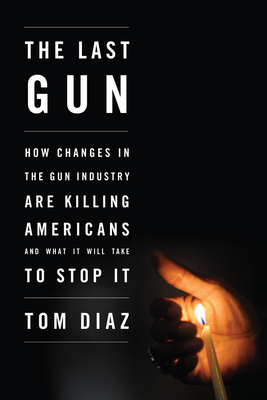 The Last Gun
How Changes in the Gun Industry Are Killing Americans and What It Will Take to Stop It
New Press, Hardcover, 9781595588302, 319pp.
Publication Date: April 2, 2013
* Individual store prices may vary.
Buy at Local Store
Enter your zip code below to purchase from an indie close to you.
or
Buy Here
Description
Tom Diaz is a former gun enthusiast and an ex-member of the National Rifle Association whose first book, Making a Killing, is widely considered to be the most influential antigun book ever written. Its publication helped to spark a national media campaign around the machinations of the gun industry and the wave of gun violence it spawned.

Picking up where Making a Killing left off, The Last Gun looks at how the gun industry has changed dramatically in the intervening decade, how the nature of gun violence has changed in step with industry trends, and why the time is ripe for a new political effort to attack gun violence at its source: the guns themselves.

In The Last Gun, Diaz offers a chilling, up-to-date survey of the changed landscape of gun manufacturing and marketing, including the disturbing trend toward military-grade, high-powered gun models and the latest statistics on how these more powerful guns have enabled new levels of gun violence to crest. The Last Gun shows how the once-impregnable gun lobby has become a paper tiger," reviewing recent legislative and judicial developments, as well as important local case studies, to show that now is the time for a renewed effort to bring a fundamentally corrupt and dangerous industry to heel.
About the Author
Tom Diaz is a writer, lawyer, and public speaker on the gun industry and gun control issues. Formerly a senior policy analyst at the Violence Policy Center, he has been featured on MSNBC, on NPR, and in other national media. His books include "Making a Killing: The Business of Guns in America" (The New Press), and he is currently working on a book about his family and American immigration policy. He lives in Washington, D.C.