Betting on Famine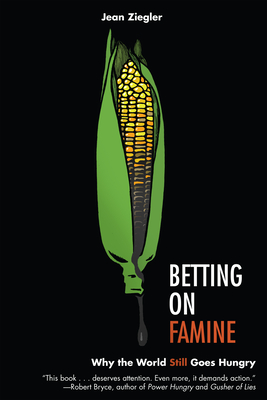 Betting on Famine
Why the World Still Goes Hungry
New Press, Hardcover, 9781595588494, 286pp.
Publication Date: August 2013
* Individual store prices may vary.
Buy Now
or
Shop Local
Enter your zip code below to purchase from an indie close to you.
Description
Few know that world hunger was very nearly eradicated in our lifetimes. In the past five years, however, widespread starvation has suddenly reappeared, with many leading analysts pointing fingers at a single culprit: the new global market in biofuels.

In a startling investigation of green gone wrong," Jean Zieglerone of the world's leading food expertslays out in clear and accessible terms how the new sustainable revolution in energy production has diverted millions of acres of corn, soy, wheat, and other grain crops from food to fuel. The results, he shows, have been sudden and startling, with declining food reserves sending prices to record highs and a new global commodities market in ethanol and other biofuels gobbling up arable lands in nearly every continent on earth.

Betting on Famine will enlighten the millions of Americans concerned about the politics of food at home and about curbing the power of the corporations that dominate global agriculture.
About the Author
Neen 1934, en Suisse, Jean Ziegler est ecrivain, sociologue et homme politique. Longtemps professeur de sociologie a l'Universite de Geneve, il est le premier dirigeant de la communaute genevoise d'Emmaus. Conseiller municipal socialiste de la ville de Geneve, de 1963 a 1967, et conseiller national, de 1967 a 1983 et de 1987 a 1999, Jean Ziegler est aujourd'hui rapporteur special de la Commission des droits de l'homme de l'ONU pour le droit a l'alimentation. Il est chevalier des Arts et des Lettres, depuis 1994.
Jean Ziegler est l'auteur de nombreux ouvrages, notamment, "Sociologie et Contestation, essai sur la societe mythique" (Gallimard, 1969), "Une Suisse au-dessus de tout soupcon" (Seuil, 1976), "Le Pouvoir africain" (Seuil, 1979), "Main basse sur l'Afrique" (Seuil, 1980), "Retournez les fusils ! Manuel de sociologie d'opposition" (Seuil, 1981), "Vive le pouvoir! Ou les delices de la raison D'Etat" (Seuil, 1985), "La Victoire des vaincus, oppression et resistance culturelle" (Seuil,1988), "La Suisse lave plus blanc" (Seuil, 1990), "Le Bonheur d'etre Suisse" (Seuil, 1993), "Charles Baudelaire", avec Claude Pichois (Fayard, 1996/2005), "L'Or du Maniema" (Seuil, 1996), "La Suisse, l'or et les morts" (Seuil, 1997/1998), "Les Seigneurs du crime: Les nouvelles mafias contre la democratie" (Seuil, 1998), "La Faim dans le monde expliquee a mon fils" (Seuil, 2000), "Les Nouveaux maitres du monde et ceux qui leur resistent" ( Fayard, 2002), "Le Droit a l'alimentation"(Mille et une nuits, 2003)et "L'Empire de la honte" (Fayard, 2005).photo: (c) Basso Cannarsa/Opale