Astro Boy Books 1 and 2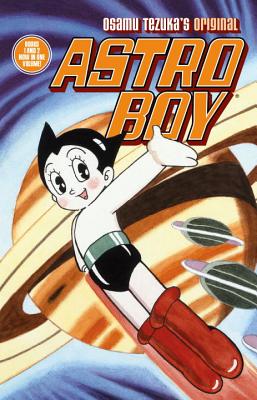 Astro Boy Books 1 and 2
Dark Horse Comics, Paperback, 9781595821539, 423pp.
Publication Date: September 23, 2008
* Individual store prices may vary.
Buy at Local Store
Enter your zip code below to purchase from an indie close to you.
or
Not Currently Available for Direct Purchase
Description
Dark Horse proudly presents one of the crown jewels of manga--"Astro Boy " Created by the late Osamu Tezuka, a revered animator and cartoonist (who created over 150,000 pages of comics in his career ) considered the Walt Disney of Japan, "Astro Boy" was the first manga series to be adapted to animation and became a worldwide phenomenon, making Astro Boy the Mickey Mouse of anime-a jet-powered, super-strong, evil-robot-bashing, alien-invasion-smashing Mickey Mouse, that is Exciting, whimsical, and touching, "Astro Boy" hearkens back to the classic era of comics and animation, featuring stories that readers young and old will enjoy.
* This special edition combines the first two volumes of the collected "Astro Boy," in one value-priced collection.
About the Author
Regarded by many as the "God of Manga" Osamu Tezuka was born in 1928 in Toyonoka, in Osaka, Japan. A prolific author and artist, Tezuka is generally regarded as the single figure responsible for developing Japan's massive manga and anime industries. His cinematic art style and novelistic narratives have made his work as universally accessible and relevant now as when first published in Japan. A list of his well-known and universally loved work includes the classic JUNGLE EMPEROR LEO (also known as Kimba the White Lion), BLACK JACK, ADOLF, MIGHTY ATOM (known as ASTRO BOY in the U.S.) and METROPOLIS (recently made into a hit anime film). Tezuka continued creating comics until his death in 1989.

Fluent in spoken and written Japanese, Frederik L. Schodt is an author, interpreter, and translator who has written extensively on Japanese culture and Japan-U.S. relations. His classic Manga! Manga! introduced the English-speaking world to Japanese comics culture.