Sardine in Outer Space, Volume 1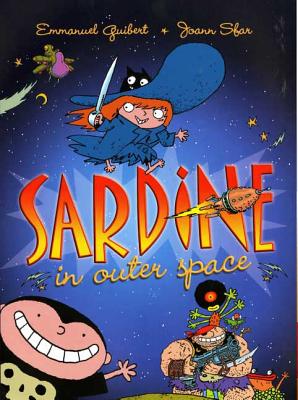 Sardine in Outer Space, Volume 1
First Second, Paperback, 9781596431263, 123pp.
Publication Date: May 2, 2006
* Individual store prices may vary.
Buy Now
or
Shop Local
Enter your zip code below to purchase from an indie close to you.
Description
In the goofy space adventures of a little girl called Sardine, encounters aren't always friendly: weird creatures, cosmic squids, masters of the universe, talking clouds, and evil beings abound. In this volume of twelve stories, Supermuscleman, the chief executive dictator of the universe, is on a mission to make all the galaxy's kids behave. Sardine must enlist the help of her cousin Lou and her pirate uncle, the gruff Captain Yellow Shoulder, to outwit him and his evil plans.
The first book in an exciting new series by two of France's most talented comics authors, "Sardine" is a feast for the imagination of young readers. Emmanuel Guibert, an outstanding artist and graphic storyteller, takes a turn on the script, while Joann Sfar illuminates the writing with rambunctious, high-energy artwork.
About the Author
Emmanuel Guibert has written a great many graphic novels for readers young and old, among them the "Sardine in Outer Space" series and "The Professor s Daughter" with Joann Sfar.
In 1994, a chance encounter with an American World War II veteran named Alan Cope marked the beginning of a deep friendship and the birth of a great biographical epic.
Another of Guibert's recent works is "The Photographer." Showered with awards, translated around the world and soon to come from First Second books, it relates a Doctors Without Borders mission in 1980 s Afghanistan through the eyes of a great reporter, the late Didier Lefevre.
Guibert lives in Paris with his wife and daughter.
Joann Sfar is a French comic artist and author of "The Rabbi's Cat, ""Little Vampire Goes to School ("a "New York Times" best-seller), and the Eisner Award-winning "Little Vampire Does Kung Fu!" He was awarded the Rene Goscinny Award for young comics in 1998 and has continued to garner international critical praise. He was most recently nominated for a 2007Ignatz Award for Best Series. His original French edition of The Little Prince graphic novel was released in 2007.
Praise For Sardine in Outer Space, Volume 1…
Review in 3/15/06 issue of Booklist
Gr. 3-5. Sword fighting her way through this French paean to disobedience is tiny space-pirate Sardine, all long red hair and giant blue hat, who cruises in her spaceship Huckleberry with Uncle Yellow Shoulder and friend Little Louie. Their mission: to oppose Supermuscleman, the mustachioed tyrant of a space orphanage where children are taught "proper behavior." In 12 whirlwind tales filled with comic battles and clever escapes, the heroes foil the villain's plans, exposing themselves to the dangers of space lions, ice-cream shops, and video games. The disobedience stays largely within reason, and Uncle Yellow appears to have as many rules and cautions for his wards as the space orphanage does. But Uncle Yellow is a big, burly pirate, and there is a distinct lack of chores in space, which makes for a free-wheeling ride peppered with as much grisly monster-filleting action and bodily fluid humor as a young reader could want. Sfar's off-kilter, slightly uglified art, reminiscent of a toned-down Beavis and Butthead, gives the simple fun an unusual punch.
Starred review in 4/15/06 issue of Kirkus
Taking a seat in first class aboard the graphic-novels-for-preteens train, this import features a carrot-topped lass who travels the starways with her piratical uncle Yellow Shoulders, foiling the plots of Supermuscleman, nefarious Chief Executive Dictator of the Universe. Presented in small sequential panels of brightly hued cartoon art and spacious dialogue ballons, Sardine's adventures take her from the space prison Azkatraz to Planet Discoball (for a dance contest presided over by Empress Laser Diskette and her offspring, Prince Beejeez), from encounters with deadly, as well as thoroughly nerve-wracking Honkfish to a deliciously violent round of "No-Child-Left-Behind-School II," a virtual game. With nonstop action, humor geared to multiple levels of cultural awareness and the promise of more episodes to come, even readers stubbornly resisting the trendy format's lure with find that, as Supermuscleman sneers shortly before gorily blasting his own foot, "Resistance is futile." (Graphic novel, 7 - 9)
Review in 6/12/06 Publisher's Weekly
Punky heroes, interplanetary action and unpredictable bouts of silliness characterize these hyperbolic color comics. Sardine, a fearless red-haired urchin, wields a silver saber and killer enthusiasm. She travels on a rattletrap fig-shaped spaceship called the Huckleberry, goes shoeless and wears blue tattered clothing; a grinning black kitten rides atop her floppy hat and hisses "The End" at the each episode's punch line. Sardine's Uncle Yellow Shoulder, a beefy, stubbled space pirate, "teaches children to disobey," according to one disgruntled villain; Sardine is his cutest and most dangerous trainee. She and the crew (including Little Louie, a boy who'd be at home in Sfar's Little Vampire books) tangle with their nemeses, the pencil-mustached Supermuscleman and lizardy brainaic Doc Krok. They also endure a dance-off on "the loathesome planet Discoball" and kick back with a virtual-reality game called No-Child-Left-Behind-School II ("Isn't that game a little violent?" Yellow Shoulder wonders). Some episodes get rough — Sardine lures a "space leech" into a rocket's firey path and remoreselessly chops fishy underwater aliens in half. Other moments are just gross, as when the baddies load Sardine and Louie's sundaes with nasty ingredients. Guibert and Sfar (co-creators of the Black Olives series) sling jokes, make up funny names and backhandedly salute the original Star Wars movies by including a primordial soup slithering with creatures and a wacky cantina. Their plots are wispy, but the pirate humor and gothic panels — abundant with Jolly Rogers, drippy slime and creepy-crawly creatures — provide surprises in every space vignette. Ages 6-up. (May)
Review in August 2006 issue of School Library Journal
Sardine is the sprightly, swashbuckling niece of Captain Yellow Shoulder, a galactic pirate who saves children from orphanages run by a costume-wearing villain (Supermuscleman). Twelve chapters each contain a short adventure, as Sardine and her cousin Little Louie fight Supermuscleman and his Assistant, Doc Krok, as well as various aliens, creatures, and robots. The artwork is scratchy and primitive, but also contains the sort of raw, grotesque sensibility that so often clicks with young readers. Tentacles, poisons, and gloopy substances are exhibited in abundance, as is Supermuscleman's rear end, and despite Yellow Shoulder's vast musculature, it is petite Sardine who usually ends up saving the day. Occasional puns and cultural references are sophisticated (e.g., a trio of clouds made from beer, wine, and rum take their names from Dumas's Three Musketeers; the youngsters play a video game called "No-Child-Left-Behind-School II"), but most of the dramatic situations are comical enough to be appreciated by the intended audience.—Benjamin Russell, The Derryfield School, Manchester, NH