Sardine in Outer Space, Volume 3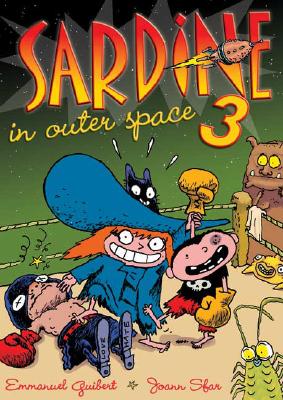 Sardine in Outer Space, Volume 3
First Second, Paperback, 9781596431287, 102pp.
Publication Date: April 3, 2007
* Individual store prices may vary.
Buy Now
or
Shop Local
Enter your zip code below to purchase from an indie close to you.
Description
The youngest and spunkiest girl in outer space is back and ready to play
Supermuscleman and Doc Krok are at it again, and it's not just the galaxy they're out to ruin it's Sardine and Little Louie too Get ready for the ultimate match-up as wits battle brawn in the best bout of this series. Yes, that's right it's the Space Boxing Championship and the fearless cousins must go head to head with Supermuscleman, Chief Executive Dictator of the universe, shrunken for disguise but just as muscley.
And so begins another day in the life of Sardine. . . .
About the Author
Emmanuel Guibert has written a great many graphic novels for readers young and old, among them the "Sardine in Outer Space" series and "The Professor s Daughter" with Joann Sfar.
In 1994, a chance encounter with an American World War II veteran named Alan Cope marked the beginning of a deep friendship and the birth of a great biographical epic.
Another of Guibert's recent works is "The Photographer." Showered with awards, translated around the world and soon to come from First Second books, it relates a Doctors Without Borders mission in 1980 s Afghanistan through the eyes of a great reporter, the late Didier Lefevre.
Guibert lives in Paris with his wife and daughter.
Joann Sfar is a force of nature. Having produced over 100 books since the early 1990s, he continually enchants, disturbs, and delights his readers with his unique rambling brand of storytelling.
He happily blends memoir with fantasy and philosophical musing with outrageous inventiveness. Sfar has evolved a personal mythology and a wondrous gallery of characters, many of whom have no qualms about guest starring in his other works. The result is a personal universe that readers around the world visit and revisit in growing numbers.
His works include "Vampire Loves", "Klezmer", "The Professor's Daughter" (in collaboration with Emmanuel Guibert), the "Sardine in Outer Space" and "Little Vampire series", and the Eisner Award-winning "The Rabbi's Cat". He lives in Paris with his wife, his two children, and a cat.
Praise For Sardine in Outer Space, Volume 3…
Review in March 1st 2007 issue of Kirkus
Doughty young Sardine and her cohorts continue to vanquish hilariously dopey Supermuscleman, mad scientist Doc Krok and other villains in nine more or less independent new adventures that range from helping out a crowd of cartoon characters angrily protesting because they're so lamely drawn ("Hey! You could at least draw me some pants!") to rescuing acres of stolen French fries and herds of wild "Burgeegies" in the mouthwatering kingdom of Yummy. Presented in colorful, crowded cartoon panels and well-endowed with both self-referential comments ("Comics are cool but we only get 10 pages per story . . . A movie's longer, so we'd have more time to kick Supermuscleman's butt") and characters with names like Emailia and Fetcher Bone, this expert mix of action, gross humor, and clever side remarks will, despite the lack of a cohesive plot line, draw carloads of Captain Underpants graduates.
Review in March 15th 2007 issue of Booklist
Feisty Sardine and her equally spunky pals Little Louie and (good) pirate Captain Yellow Shoulder continue their series of pun-filled, frolicsome adventures. In this round, the tales include an Internet-inspired bit of hooliganism, a boxing match, a fast-food fight, and a rock concert. Scoundrel Supermuscleman appears often, and there are several unique characters here—among them, the locals of the planet Topdog and the Queen of Applet. Some characters smoke and drink, and there's a sexy dog-woman character in a straining halter top, but the tales, which originate in France, are still wonderfully appealing, and the bouncy, bright art perfectly suits the Sardine troop's energy and sass. It's never too late to pick up this series.
Review in July 2007 issue of Bookpage
New from the ambitious and wide-ranging First Second, the Roaring Brook imprint that published Gene Luen Yang's National Book Award-winning graphic novel American Born Chinese is Sardine in Outer Space 3, written and illustrated by Emmanuel Guibert and Joann Sfar (The Rabbi's Cat). This is the latest in a wacky series that relates the adventures of a space-pirate girl named Sardine and her cohorts as they come up against all manner of oddball characters and dodgy situations, such as defeating Supermuscleman, Chief Executive Dictator of the Universe, in the Space Boxing Championship.
Review in July 2007 issue of School Library Journal
Gr 4-8—Intrepid Sardine and her wacky group of space-faring pirate friends are at it again! Not one to let odd situations slow her down, Sardine leads the gang as they confront Supermuscleman in an astoundingly creative assortment of adventures. From a planet made of fast food to a retirement home in space to a rock concert that shakes the universe, the situations the characters find themselves in are unrelentingly silly and will leave readers giggling. The bright, colorful illustrations are filled with manic action and fascinating details that will draw children in and have them coming back for more.—Dawn Rutherford, King County Library System, Bellevue, WA