Keepers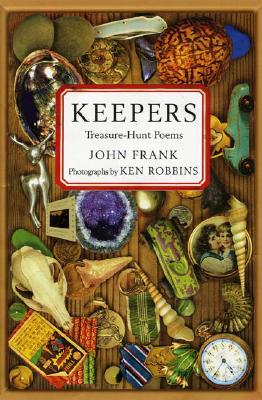 Keepers
Roaring Brook Press, Hardcover, 9781596431973, 64pp.
Publication Date: April 1, 2008
* Individual store prices may vary.
Buy at Local Store
Enter your zip code below to purchase from an indie close to you.
or
Not Currently Available for Direct Purchase
Description
THE GLEAM OF A GOLD NUGGET…the fire in a precious gem…the geometry of a seashell…a fossil, a baseball card. Treasures all.
John Frank's poetry about the things we collect – at the beach, in the attic, in the mountains and desert, at flea markets – is a treasure itself. With handsome alluring photographs of collections and collectibles, this is a rare find – a keeper - to read and rediscover again and again.
Keepers
is a 2009 Bank Street - Best Children's Book of the Year.
About the Author
John Frank is the author of several children's books, including the award-winning "The Toughest Cowboy "and "How to Catch a Fish," which "Booklist "praised""as "resonating poetic vignettes [that] spawn a glinting, striking catch," in a starred review. He lives in Redmond, Washington. Ken Robbins is an author and photographer of many children's books. Of his "Pumpkins," "School Library Journal "wrote: "The color photos equal any painting for artistry of composition and sensitivity." Ken Robbins lives on Long Island, NY.
Praise For Keepers…
Booklist Poet Frank, whose books include The Tomb of the Boy King (2001) and How to Catch a Fish (2007), offers a nice collection of short poems about treasures, from geodes to baseball cards to costume jewelry. The verse is grouped thematically according to where the treasures might be found: on beaches, in attics, in mountains and deserts, at flea markets, and in the ground. Writing with clarity and simplicity, Frank varies the rhythm and length of line and stanza from one poem to the next. "Abalone Shell" is among the shortest poems: "Rocking / in the current's swirl . . . / a melted rainbow / cupped in pearl." On the facing page, a photo of an open shell on the sand shows the iridescent colors gleaming from its interior surface. Though a few poems stand alone, most are illustrated with color photos that are as clear and straightforward as the verse. A good addition to poetry collections. Publishers Weekly It's reluctant poetry-readers Frank seems most intent on reaching with this collection of friendly, sturdy verses. School Library Journal
Gr 1-5–A collection of mostly short poems about the treasures to be found "At the Beach," "In the Attic," "In the Mountains and Desert," "At the Flea Market," and "Beneath the Ground." Each section contains six poems. A driftwood bird, sea glass, a porcelain doll, baseball cards, a bronze star, a fossil, a sand rose, die-cast cars, comic books, puppets, spear points, and pottery jars all become subjects of well-crafted rhyming verses whose metaphors can bring them to life. For example, "Geode" begins, "I cracked a stone egg/dark as smoke,/and found, inside,/a crystal yolk…," and "Abalone Shell" is depicted as "a melted rainbow cupped in pearl." The imagery is enhanced by the full-color photographs that accompany a little more than half of the poems. Sometimes full-page, sometimes elegantly placed in minimalist fashion on the smooth white page, the photos, with their intense color, clarity, and focus, indeed make treasures out of these objects. A few of them have Robbins's signature hand-colored slightly surreal look, and all of them increase readers' appreciation of the lines...Overall, though, these appealing looks at one man's treasures have immediacy and verve and spread the joy of discovery that makes collecting fun.–Nancy Palmer, The Little School, Bellevue, WA For Young ReadersFrank had the bright idea of writing poems about the idiosyncratic treasures, from polished stones to old baseball cards, that as they wait to be unearthed at the beach, in the attic, at the flea market, in the desert and elsewhere. Someone had the even brighter idea of pairing his efforts with the jewel-like photographs of Ken Robbins. As with any treasure hunt, there are finds and duds. In "Globe," for instance, the photo outshines the verse. Isn't exactly words on fire.) But sometimes the match just ignites, as in the lovely "Geode"...