There's a Wolf at the Door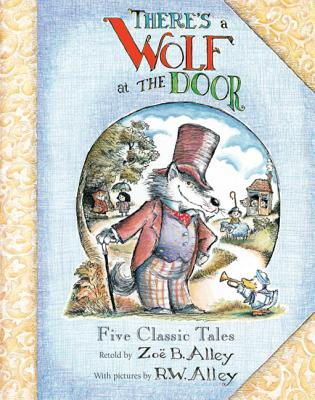 There's a Wolf at the Door
Roaring Brook Press, Hardcover, 9781596432758, 34pp.
Publication Date: September 30, 2008
* Individual store prices may vary.
Shop Local
Enter your zip code below to find indies closest to you.
Description
FIVE CLASSIC TALES ALL STARRING ONE PUT-UPON WOLF
in an oversized gift-ready package Wolf, a rather fine dresser and intelligent creature, just can't catch a break. All he wants to do is eat some pig, lamb, a gosling or two, a loud sheperd or that little girl wearing a red hood, but for some reason none of them will cooperate. Five classic tales morph into one ongoing yarn as Wolf bumbles his way through each of them. Told in graphic novel style in an oversized picture book package, this is the gift for kids of all ages for happily-ever-after holidays.
About the Author


My parents saved everything, so I know that I began drawing sometime around age two. I haven't paused since. In fact, my drawings now and my drawings then bear a rather strong resemblance. I have gotten slightly better at hands, but horses remain a problem. For an only child, growing up in New York, Texas, South Carolina and finally for most of the time in Annapolis, Maryland, drawing was fine self-entertainment. Then, as now, I have always enjoyed most making pictures that illustrate a story rather than hang on a wall. Today I live in Barrington, Rhode Island with the lovely Zoe B. Alley, author, wife and mother of our two clever children, Cassandra and Max.
I make my pictures in a studio that has a rolling ladder, more books than I can count and many tubes of half-used, rock-hard paint. For the last ten years one of my big projects has been to illustrate new and old stories of Paddington Bear. I have also made pictures for over one hundred other books since I started doing all this right out of college in 1979. I didn't go to art school, but received a BA in Art History from Haverford College and then spent four years as a staff artist at several greeting card companies. Since then, I have spent my working time in my slippers trying to avoid illustrating stories with horses.
Praise For There's a Wolf at the Door…
STAR"The stories' narrative paths tend to follow the originals, but now they're layered with humor. The transitions between tales, visual and verbal, extend the fun, while dialogue balloons with pithy commentary (and adaptable font size) enrich the tongue-in-cheek narrative. Detailed watercolor and pen-and-ink illustrations have a buoyant appeal; the cocky personalities of both animal and human characters are clearly indicated through expressive postures and expressions.  This is a giggly read-aloud as well as a snortingly funny read-alone. Hand it to the transitional or reluctant reader, and listen for the laughs." --Booklist, starred review   STAR"A hungry wolf just can't catch a break in these five loosely connected folktales. All are familiar, and amiably retold in large, sequential cartoon panels. Looking dapper in top hat and three-piece suit, the wolf first takes on three pigs (all of whom escape), moves on to the bored and foolish lad who cries "Wolf!" then is subjected to a fashion smackdown by Little Red Riding Hood. He unsuccessfully tries his luck again with the sheep under a woolen fleece snatched from Grandma's house, and finally proves no match for seven hyperactive goslings whose mother has gone off on an errand. Readers drawn by the unusually large trim size and Alley's animated, loosely posed figures will linger over the snappy dialogue (" 'I'll teach you to be rude to my granny, you fake!' screamed Rhonda, now clearly upset. 'And did no one ever tell you not to wear white after Labor Day?' ") and almost feel sorry for the feckless predator—who is last seen eyeing a sign pointing toward Mr. McGregor's garden and considering turning vegetarian."--Kirkus Reviews, starred review  "Illustrated with softly colored pen-and-ink drawings, these five stories meld seamlessly together. The text is full of puns, alliteration, and occasional rhymes. Contemporary sensibilities, such as Rhonda's fixation on fashion and the counseling style of Barry's sheep, are priceless additions. The oversize format and the graphic-novel style make this retelling perfect for independent reading as well as for group sharing."--School Library Journal