Foiled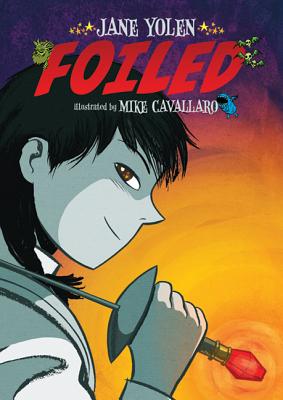 Foiled
First Second, Paperback, 9781596432796, 160pp.
Publication Date: April 13, 2010
* Individual store prices may vary.
Buy at Local Store
Enter your zip code below to purchase from an indie close to you.
or
Buy Here
Description
A quirky, fast-paced urban fantasy by esteemed author Jane Yolen
Aliera Carstairs just doesn't fit in. She's always front and center at the fencing studio, but at school she's invisible. And she's fine with that . . . until Avery Castle walks into her first period biology class. Avery may seem perfect now, but will he end up becoming her Prince Charming or just a toad?
About the Author
Jane has been called the Hans Christian Andersen of America and the Aesop of the twentieth century. She sets the highest standard for the industry, not only in the meaningful body of work she has created, but also in her support of fellow authors and artists. Her books range from the bestselling How Do Dinosaurs series to the Caldecott winning Owl Moon to popular novels such as The Devil s Arithmetic, Snow in Summer, and The Young Merlin Trilogy, to award-winning books of poetry such as Grumbles from the Forest, and A Mirror to Nature. In all, she has written over 335 books (she s lost count), won numerous awards (one even set her good coat on fire), and has been given six honorary doctorates in literature. For more information, please visit www.janeyolen.com.

MikeCavallaro is originally from New Jersey, where he attended the Joe Kubert School of Cartoon and Graphic Art, and has worked in comics and animation since the early 1990s. Mikes comics include Parade (with fireworks), a Will Eisner Comics Industry Award-nominee, The Life and Times of Savior 28, written by J.M. DeMatteis, and Foiled, written by Jane Yolen. Mike is a member of the National Cartoonists Society and lives in Brooklyn, NY.
Praise For Foiled…
Review in 3/15 Booklist
Aliera may have listened too well to her fencing coach's advice: "You must always protect your heart."  Besting competitors twice her age in tournaments and keeping to a strict routine of fencing practice, homework, and role-playing games, Aliera is a loner and likes it that way – until she becomes lab partners with the cutest boy in school.  She initially resists his charms but is won over when he asks for a date.  Turns out her new ruby-handled foil is the key to his interest in her, and to the yet-unseen magical dimension she must keep in balance.  Yolen's first foray into the graphic format is a success precisely because she incorporates the best weapon in her arsenal – fantasy.  In Aliera she has created a strong, conflicted, and relatable girl hero who wields her wariness for protection.  Cavallaro's artwork suits Aliera's monochrome existence, but bursts to life when she finally sees (in color!) the faerie beasties cheering her on.  The explanation and source of Aliera's status as a protector of worlds will have to wait for further volumes to be revealed.  – Courtney Jones
Review in 3/15 Kirkus Reviews
Veteran fantasist Yolen introduces the utterly charming and sassy Aliera, a quirky tenth-grade loner who's both color-blind and an expert fencer, in this charming graphic novel. Aliera slinks her way through high school, focusing on fencing practice, reading and engaging in role-playing games with her cousin. When hunky Avery Castle arrives at her school, all the girls are immediately smitten, and Aliera also falls for Avery's good looks and charm, though she tries to downplay her feelings for him. An odd turn of events throws Aliera's routine off balance, and everything in her life she knew to be real—from a practice foil her mother bought her at a tag sale to the lothario Avery to the entire world as she knew it—is suddenly not what it appears to be. This fantastic change brings color into her life, and the drab grays that wash over Cavallaro's panels now burst with vibrantly hued blasts. An enchanting tale, with hints of a possible continuance. For fantasy lovers, this is an absolute must-read. (Graphic fantasy. 12 & up)
Review in 3/10 SLJ
Gr 8 Up–The chapters in this clever graphic novel follow the terms of a fencing match, from "Engagement" to "Disengagement," with successive stages in between. Most of the illustrations are done in two tones as Aliera Carstairs makes it through her humdrum days in high school, where she doesn't fit in. Color begins to appear when she puts on her fencing mask at Grand Central Station and the fantasy begins. Illustrations complement the text well, with larger pictures reflecting the character's situation and feelings. After meeting her date and admitting to seeing ogres and dragons when wearing her mask, he thinks she is crazy, but a wild adventure ensues. She loses her weapon but it is returned by a fairylike creature who tells her that the foil her mother purchased at a tag sale is the source of her powers, and she is the defender and now part of a world called Helfdon. The ending will leave readers anxiously awaiting the second installment in the series.–Karen Alexander, Lake Fenton High School, Linden, MI
Reviewed in 4/5 Publisher's Weekly
Aliera Carstairs attends a small high school in New York City and feels like an outcast in its crowds of cliques, jocks, goths, nerds, and preps. She's always been a loner and doesn't know where she belongs. The only control she has is fencing and the role-playing games she plays with her disabled cousin. Then the gorgeous and flirtatious Avery Castle becomes her lab partner, and a crush quickly ensues. Plus there's her mysterious practice sword with the irremovable ruby in the hilt. Famed YA author Yolen weaves a familiar tale of the heroine's journey, while addressing Aliera's helplessness before Avery's glamour. But Avery has some secrets of his own—cutting up frogs in lab class is his idea of fun—and all the threads converge at Grand Central Station in a botched first date that turns into a high fantasy adventure. Cavallaro's art is rounded and cartoony, handling action and the fantasy elements well while skimping a bit on characterization—his Avery is just a sorta cute cartoon boy, not a devastating heartbreaker, but Aliera is a strong and likable protagonist. Yolen weaves her knowledge of fencing vividly throughout the plot, powerfully creating romance, mystery, adventure, fantasy, and drama, all rolled into a strong narrative. Ages 11–up. (Apr.)