Resistance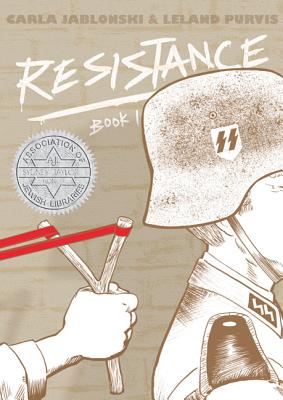 Resistance
Book 1
First Second, Paperback, 9781596432918, 121pp.
Publication Date: April 27, 2010
* Individual store prices may vary.
Buy Now
or
Shop Local
Enter your zip code below to purchase from an indie close to you.
Description
Fighting on a secret front of World War II
Paul and Marie's bucolic French country town is almost untouched by the ravages of WWII, but the siblings still live in the shadow of war. Their father is a Prisoner of War, kept hostage by the Germans. When their friend Henri's parents disappear and Henri goes into hiding because of his Jewish ancestry, Paul and Marie realize they must take a stand. But how can they convince the French Resistance that even children can help in their fight against injustice?
Resistance is the first voulme of a triology written by acclaimed teen author Carla Jablonski and illustrated by Leland Purvis.
About the Author
Carla Jablonski has edited and written dozens of best-selling books for children and young adults. She is also an actress, a playwright, and a trapeze artist, and has performed extensively in Scotland and in New York City. A lifelong resident of New York City, she currently lives in Brooklyn, New York.




Praise For Resistance…
Starred Review in 3/15 Booklist
The first of a trilogy, this stirring graphic novel set in 1940 in the French countryside authentically expresses the personal stand-offs and immediate drama of children who are drawn into the Resistance when German soldiers occupy their village. Paul and his younger sister, Marie, fume at each other even as they help hide their Jewish friend, Henri, after his parents disappear. Their own father is being held by the Germans, and the confusion about who is on which side is always present—that is part of the wartime horror. Resistance fighters, brave as they are, can be petty and vindictive, and so can those they assist. "What took you so long?" a fugitive asks his rescuer, who snaps back, "Sorry for the inconvenience; I thought I should keep you alive." Along with the suspenseful rescues and spy-story elements (including a library book with marked words that deliver secret messages), readers will be held by the realistic characterizations and grim events, all fleshed out in Purvis' quavery artwork that is especially adept at conveying the young characters' wrenching emotions. In the end, the villagers witness the deportations as packed trains pass by, and Henri realizes, "This is just the beginning." An excellent addition to the Holocaust curriculum, especially with the author's lengthy afterword, which offers additional context and also argues that history too often makes everything black and white.
— Hazel Rochman
Review in 4/15 Kirkus
Vichy, 1942: French teenager Paul Tessier, an artist never far from his drawing pad, assumes charge of his family after his father is taken prisoner by German troops. But when his Jewish best friend, Henri Levy, becomes the target of Nazi sympathizers in his small French village, Paul, along with his family, is compelled to act. They enlist in the Resistance movement and arrange to smuggle Henri to Paris, where he will join his parents in hiding. Jablonski's text admirably mixes the drudgery of day-to-day activity with the horrors of life during wartime. Her collaborator's drawings do wonders to ratchet up the intensity of the story line; Purvis's knack for facial expressions conveys a depth otherwise missing in the dialogue. The graphic design enjoys mixed success, however: While the inlays of Paul's own artwork throughout the text are quite clever, the speech bubbles are confusingly sequenced across the panels and often demand re-reading. The book's introductory exposition and appended author's note are not only helpful but necessary for young readers. An honorable attempt to illuminate the realities of life during war. (Graphic historical fiction. 12 & up)
Review in 5/1 SLJ
Gr 7 Up–Paul and Marie are comparatively lucky because they live in the free zone of France instead of the occupied zone. When they try to hide their Jewish friend Henri from the Germans after his parents vanish, the children get recruited into the French Resistance movement. The story opens with Paul's sepia-toned drawings of a bucolic landscape that transforms as the clouds darken, demonic monsters appear, and the houses in the distance start burning. While the rest of the story is illustrated in full color, the boy's drawings appear throughout, a visual thread that readers can follow to see the action through his eyes. Throughout the course of this book, Paul and his sister learn more about the world around them and begin to understand the scope of what is happening to the rest of the country. By the end of the book, they have witnessed forced deportations and seen a member of the Resistance shot in front of them. But they have also learned that many people are participating in the movement and are fighting back in myriad ways. This ending makes it clear that sequels are needed to complete the story. A brief overview of free and occupied France and the French Resistance movement is included, which will be helpful for readers who are unfamiliar with this facet of history.–Andrea Lipinski, New York Public Library