Grandma's Smile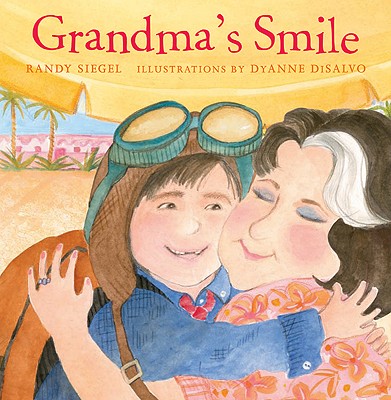 Grandma's Smile
Roaring Brook Press, Hardcover, 9781596434387, 32pp.
Publication Date: August 17, 2010
* Individual store prices may vary.
Buy at Local Store
Enter your zip code below to purchase from an indie close to you.
or
Not Currently Available for Direct Purchase
Description
On a snowy day in the city, a boy gets an important phone call from his grandmother: she's lost her smile. There's only one thing to do: fly down south on an urgent mission, stuffed bunny in tow, to find that smile and return it to its rightful place. But he won't have to look very hard. . .
About the Author
Randy Siegel is the author of "Grandma's Smile" for Roaring Brook Press, which "Publisher'sWeekly "called, "a wry and contemporary reality check on the going-to-Grandma's genre." Siegel has written for newspapers and magazines around the country and works for Advance Publications in New York City.
DyAnne DiSalvo-Ryan's books include "Grandpa's Corner Store, A Castle on Viola Street, City Green" and "Uncle Willie and the Soup Kitchen." She lives in Philadelphia. In Her Own Words...
"When I was a girl growing up in Brooklyn, New York, the oldest sibling of one brother and two sisters, I never thought that my art was among the very best. My mother and father recognized my art ability early on. It was because of their sensitivity that I eventually began to acknowledge my talent and enjoy my life as an artist. I remember when I was eight years old, looking at a book one day and thinking: I can make a better book. It was from that day on that I knew I wanted to be an artist and author of children's books. Consequently, whenever anyone asked me if wanted to be an artist When I grew up, I answered, "I am all artist already."
"I always loved a sharp pencil and a new piece of paper. As a young girl, I drew all the time. Even as a teenager, I stayed in my room and drew for hours. My favorite books as a child were the Madeline series, anything by Dr. Seuss, "The Five Chinese Brothers", and" A Big Ball of String."
"After attending college a[ the School of Visual Arts in New York, I moved to Kansas City, Missouri" in 1978 to work with Hallmark cards. While living in Kansas City, I set tip interviews with New York publishers whenever I went back home. My first book was Published by Western Publishing in 1980. Since then, "That New Baby" has sold over one million copies. It is even printed in Indonesian!
"Before I begin a book I can see the whole thing. I can sense tile color and pacing. Depending on the type of manuscript I am working with, sometimes I take a lot of photographs, sometimes I need to do historical research, sometimes I draw from my head. Usually, it is very easy for me to draw. If I find myself erasing too much, I will start all over and try to envision the picture in a new way.
My characters are based on people I know or people I have seen. I want children to be able to see themselves or their neighbors when they look at my illustrations. I want them to feel familiar. Many of my personal experiences become the source of inspiration for my stories. The story of Uncle Willie and the Soup Kitchen was born from the three years I spent working at a soup kitchen while I lived in Park Slope, Brooklyn. "City Green" was inspired by the garden lot that I passed on my way there. Inspiration for "Grandpa's Corner Store" comes from a local grocer with many loyal customers (including me) in Haddon Heights, New Jersey. Before writing, "A Castle on Viola Street, " I worked for several months building and renovating houses in Camden, New Jersey, through a nonprofit group like Habitat for Humanity. I donate a percentage of my royalties from each book to the organization that they support. This is my way of contributing back to the communities and purposes my books provide.
Currently, I live in a historical town just outside Philadelphia, Pennsylvania. I like living in a small town. It is quiet and easy to think. But the moment I cross the Verranzano Bridge into Brooklyn, I am enchanted by the man sweeping outside the little bodega. I am charmed by three women talking on a street corner, holding the red-and-white strings of their bakery boxes. There are teenagers in curlers and kids scooping puddle water with spoons. From fire escapes to gum spots I see life in the buildings and movement on the sidewalks. I take out my sharp pencil and a clean piece of paper. I am an artist already."
Praise For Grandma's Smile…
Examiner.com Top 10 award-winning children's books make perfect holiday gifts, November 29, 2010
PARADE Picks, August 29, 2010
"Randy Siegel and illustrator DyAnne DiSalvo perfectly capture the bond between children and their grandparents in this charming picture book about a little boy who sets out to find his grandmother's lost smile." –
PARADE magazine


"Kids who have traveled will identify with all the details and hassles of traveling."—Examiner.com, Top 10 Books of 2010 for Kids


"Happy watercolors, wry humor and a fine sense of family will please weary young travelers—and their grandmas." –Cleveland Plain Dealer

"DiSalvo's watercolor illustrations bring to life Siegel's self-assured protagonist and his journey from the wintery north to his grandmother's arms." –School Library Journal

"A wry and contemporary reality check on the going-to-Grandma's genre." –Publishers Weekly

"Long-distance grandmothers everywhere will sympathize with Grandma as she searches for her lost smile in her grandson's picture, among his toys and in his bedroom, just as they will rejoice in the pair's loving reunion; those who read this may try a similar trick." –Kirkus Reviews

"This picture book accurately reflects many kids' experiences of airports, because it emphasizes the tedium of waiting as well as the long hallways, moving walkways, stairs, and escalators traversed. DiSalvo's mixed-media illustrations capture the child's experience with emotional warmth and rewarding attention to detail." –Booklist