Black Jack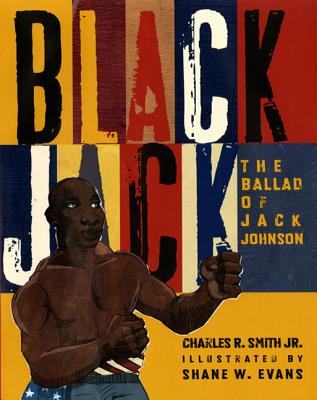 Black Jack
The Ballad of Jack Johnson
Roaring Brook Press, Hardcover, 9781596434738, 40pp.
Publication Date: June 22, 2010
* Individual store prices may vary.
Buy Now
or
Shop Local
Enter your zip code below to purchase from an indie close to you.
Description
Born as Arthur John Johnson in the southern state of Texas, Jack Johnson was one of the most renowned boxers of the twentieth century. Through hard work and persistence, he climbed the ranks, taking a swing and a jab and eventually busting the color barrier. As the first black man to win the Heavyweight Championship, there was more than a title on the line.  Published to commemorate the 100th anniversary of this history-making bout (July 4, 1910). This is an extraordinary marriage of poetry, fabulous collage artwork, and a splendid achievement in its own right.
About the Author
Charles R. Smith Jr. says that while growing up in California, he read anything he could get his hands on. "Reading books filled with stories and poems inspired me to write my own," he says. "The more I read, the more I wrote. And if I wasn't reading a book, I was playing a sport: I played everything, particularly basketball, and spent many afternoons on the court, perfecting my jump shot." While working on his high school yearbook as a writer, Charles R. Smith Jr. was introduced to photography and immediately decided to make a career out of it. He graduated from photography school and headed to New York to pursue his dream. "I continued with my writing, and, with a heavy influence of rap music,
began writing more poetry instead of stories," he says. "Now, I have combined my photographic skills with my love of reading, writing, and sports to create an exciting career for myself!" Among the books the poet-photographer has written and illustrated is RIMSHOTS: BASKETBALL PIX, ROLLS, AND RHYTHMS, which was selected as an American Library Association Notable Children's Book.

Shane Evans studied at Syracuse University School of Visual and Performing Arts and graduated in 1993 and began traveling the world. In addition to contract work in illustration, graphic design and web design for major companies, Evans has conceptualized and illustrated numerous children s books. Many of the books have been featured in the media such as The Oprah Winfrey Show, The Today Show, NBA Inside Stuff, Reading Rainbow and Late Night with David Letterman. Shane has received much acclaim within the children s literary field for his work on children s books such as "Osceola," "The Way The Door Closes," "Shaq and the Beanstalk" and "Take It To The Hoop Magic Johnson." His accolades range from being honored by First Lady Laura Bush at the 2002 National Book Festival, The Boston Globe-Horn Book Award and The Orbis Pictus Award for Outstanding Non-Fiction for Children.
Praise For Black Jack…
"Charles Smith's poetry surges along, with a forceful rhythm that joins ballad and rap, as he follows "a mighty, fightin' man," challenging the color line as well as individual opponents around the world. Shane Evans' illustrations make Johnson's body a monument to intelligence and power." –Chicago Tribune

"This book is sure to be championed by reluctant readers with energy and restlessness just like Johnson's, but it is a strong selection for library and classroom read-alouds as well." —Starred, School Library Journal

"A rousing story, one that celebrates Johnson's dignity, pride, and determination." –Starred, Publishers Weekly

"The poetry is interspersed with quotes of the time, and illustrator Evans uses oil paint and ink to depict the somber, determined fighter, with collage elements of newspaper articles, maps, and crowds in the backgrounds to set the story firmly in time and place." —Horn Book

"The elegant simplicity and rat-a-tat rhythms land some stunners . . .  enhanced by Evans' lithe and swaggering artwork, which lends a tremendous visual charisma, grace, and grandeur." —Starred, Booklist

"Through poetry, quotations and some prose, the life of one of boxing's most important stars is celebrated, from his youth as the victim of bullies to the 1908 championship bout against a white fighter that made him a legend." —Kirkus Reviews