Athena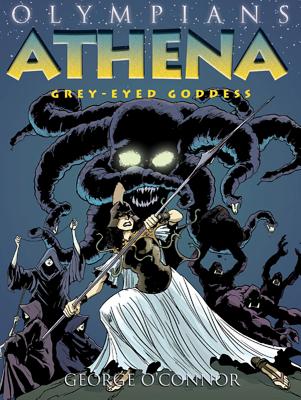 Athena
Grey-Eyed Goddess
First Second, Hardcover, 9781596436497, 76pp.
Publication Date: April 13, 2010
* Individual store prices may vary.
Buy Now
or
Shop Local
Enter your zip code below to purchase from an indie close to you.
Description
Boom Pow Crash
Greek Gods as you've never seen them before
The strong, larger-than-life heroes of the Olympians can summon lightning, control the sea, turn invisible, or transform themselves into any animal they choose. Superheroes? No Greek gods. The ancient pantheon comes to explosive life in this new series where myth meets comic books. Epic battles, daring quests, and terrible monsters await readers within the pages of these books.
Volume 2, Athena: Grey-Eyed Goddess, is the tale of the goddess of wisdom and war, recounting her many adventures.
About the Author
George O Connor is the author and illustrator of the picture books "Kapow!" and "Ker-splash!" He spends time in his secret Brooklyn, New York, hideout where he uses his amazing artistic powers to strike fear in the hearts of bad guys everywhere!
Praise For Athena…
Review in 3/15 Kirkus
Following the series opener that chronicled Zeus's origin story, O'Connor's next relates the details of his daughter Athena's birth and some of the stories about her. The three Fates narrate in stately language, briefly recapping the rise of the Olympians before turning to Zeus's relationship with Metis, which ends when he eats her to avoid his prophesied overthrow by their child. Following Athena's miraculous emergence from his head, fully grown, she struggles to find her place in the world and among the gods. The Fates go on to recount how she adopted the first name Pallas and acquired the components of her Aegis, which includes the story of Perseus and Andromeda, and Athena's confrontation with Arachne. While less unified in narrative structure than the previous book, this nevertheless shares its strengths—a balance between heightened narration and colloquial dialogue, superb graphic storytelling with extended wordless action sequences, energetic backmatter and a palpable fondness for the subject matter. Up next? Hera. (author's note, character profiles, "G[r]eek Notes," discussion questions, bibliography) (Graphic mythology. 8-14)
Starred Review in 5/1 School Library Journal
Gr 5-9–Five myths featuring the Greek goddess are included in this volume. Dialogue is modern ("What's gotten into you, Zeus?" "I wanna bite him!"), while narration, provided by the Fates, retains a more formal tone. A good balance is struck between exposition and action: readers familiar with these stories will enjoy seeing them brought to life with such vigor, while sufficient background is provided so that children reading about the Greek gods for the first time will not find themselves lost at sea. The family tree of the immortals is a useful tool even for the most experienced readers. O'Connor's drawings, full of energetic diagonals and expressive faces, are nicely balanced by spare settings and minimalistic backgrounds. A sophisticated color palette, full of midtones and subtle contrasts, and panel layouts that vary from page to page further distinguish the art. The author's affection for his subject is evident in a chatty note. Profiles of major characters, notes, and discussion questions appear in addition to the usual back matter. An exceptional graphic novel.–Paula Willey, Baltimore County Public Library, Towson, MD