Hidden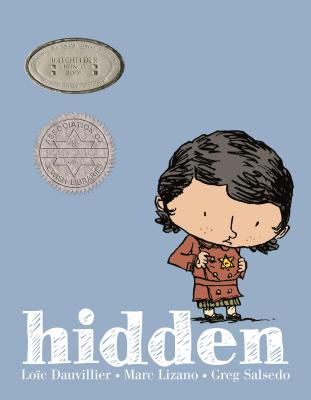 Hidden
A Child's Story of the Holocaust
First Second, Hardcover, 9781596438736, 76pp.
Publication Date: April 1, 2014
* Individual store prices may vary.
Buy at Local Store
Enter your zip code below to purchase from an indie close to you.
or
Buy Here
Description
In this gentle, poetic young graphic novel, Dounia, a grandmother, tells her granddaughter the story even her son has never heard: how, as a young Jewish girl in Paris, she was hidden away from the Nazis by a series of neighbors and friends who risked their lives to keep her alive when her parents had been taken to concentration camps.
"Hidden" ends on a tender note, with Dounia and her mother rediscovering each other as World War II ends . . . and a young girl in present-day France becoming closer to her grandmother, who can finally, after all those years, tell her story. With words by Loic Dauvillier and art by Marc Lizano and Greg Salsedo, this picture book-style comic for young readers is a touching read.
About the Author
Loic Dauvillier is above all a book lover. He has penned a great many picture books and comics adaptations of classics ("Around the World in 80 Days", "Oliver Twist"), as well as other more personal and autobiographical works. "Hidden" is his most recent graphic novel.

Ne a Vannes le 26 decembre 1970, Marc Lizano a grandi a Ploermel puis etudie a Rennes, delaissant sa licence de Philosophie pour se consacrer a l'ecriture et a l'illustration.Auteur complet, il travaille avec un bonheur egal pour la presse, pour l'edition jeunesse ou la bande dessinee.Alternant les ouvrages pour la jeunesse avec les recits intimistes ou les adaptations, il pose petit a petit une 1/2uvre resolument humaine et attentive, qu'il transmet a l'occasion lors de ses interventions en bibliotheque ou en milieu scolaire.Marc Lizano vit aujourd'hui a Rennes avec sa famille.


Praise For Hidden…
*"Lizano draws people the same way that small children do: a giant oval for the head and two dots for the eyes. But his people always have complicated expressions on their faces. They never show just one emotion . . . No book can sum up all of the Holocaust, but this graphic novel seems to contain every possible human emotion. Remarkably, most of the time, it does it with an oval and two dots." - Kirkus Reviews, starred review
"A Holocaust experience told as a bedtime story? It sounds crazy, but here it works." - Booklist
"Lizano's stylized illustrations depict characters with oversize heads, reminiscent of "Peanuts" comics, giving this difficult subject an age-appropriate touch . . . Pair this poignant graphic novel with Lois Lowry's Number the Stars." - School Library Journal