The Law of the Garbage Truck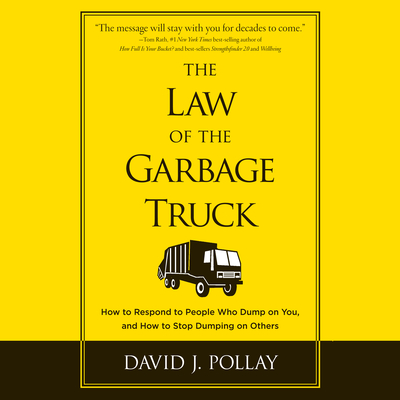 The Law of the Garbage Truck
How to Respond to People Who Dump on You, and How to Stop Dumping on Others
Gildan Media Corporation, Compact Disc, 9781596596016
Publication Date: October 5, 2010
* Individual store prices may vary.
Buy at Local Store
Enter your zip code below to purchase from an indie close to you.
or
Not Currently Available for Direct Purchase
Description
"What if you could take control of your life with one decision? You Can. I wrote this audio book to show you how." - David J. Pollay How often does a bad driver, rude waiter, curt boss, or an insensitive relative ruin your day with a thoughtless action, an angry rant, or a snide remark? And how often have you ruined someone else's day? In "The Law of the Garbage Truck," David J. Pollay shows us that by refusing to let others dump their "garbage" (negativity, anger, resentment) on us-and letting it "pass by" instead-we become happier and more successful, both personally and professionally. And when we stop dumping garbage on others, we improve our relationships, strengthen our businesses, and bring our communities together. Twenty years ago, while riding in a New York City taxi, syndicated columnist and business consultant David J. Pollay narrowly escaped a life-threatening car crash. The driver who almost caused the accident and started yelling at the cab driver, who remarkably just smiled, waved, and wished him well. Pollay asked how the cabbie could remain so calm, and his response sparked the defining principle of The Law of the Garbage Truck. Many people are like garbage trucks. They run around full of garbage, full of frustration, full of anger, and full of disappointment...And if you let them, they'll dump it on you. So when someone wants to dump on you, don't take it personally...move on. Now Pollay shows you how to apply his Law in this remarkable audio book that can help you: Avoid getting dumped on by rude, thoughtless, and angry peopleStop reliving the negative in your past, and fearing the futureFocus on what you can control, not the negative things you can'tReduce incivility wherever you find it, and stop bullies in their tracksImprove your relationships by not dumping on your friends, parents, spouse or coworkersFind happiness again after dealing with illness, loss, and personal tragedyIncrease productivity, respect, and cooperation by creating a No Garbage Trucks Zone in your business, school, and homeGain the courage to enjoy every day, do what you love, and make a difference.