Talk to the Snail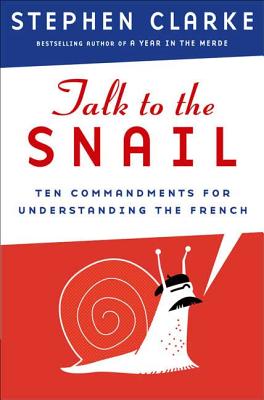 Talk to the Snail
Ten Commandments for Understanding the French
Bloomsbury Publishing PLC, Hardcover, 9781596913097, 262pp.
Publication Date: December 26, 2006
* Individual store prices may vary.
Buy at Local Store
Enter your zip code below to purchase from an indie close to you.
or
Buy Here
Description
Have you ever walked into a half-empty Parisian restaurant, only to be told that it's "complet"? Attempted to say "merci beaucoup" and accidentally complimented someone's physique? Been overlooked at the "boulangerie "due to your adherence to the bizarre foreign custom of waiting in line? Well, you're not alone. The internationally bestselling author of "A Year in the Merde "and "In the Merde for Love "has been there too, and he is here to help. In "Talk to the Snail," Stephen Clarke distills the fruits of years spent in the French trenches into a truly handy (and hilarious) book of advice. Read this book, and find out how to get good service from the grumpiest waiter; be exquisitely polite and brutally rude at the same time; and employ the language of "l'amour "and "le sexe." Everything you need is here in this funny, informative, and seriously useful guide to getting what you really want from the French.
About the Author
"That's Paris" is a collection of fiction and non-fiction stories from people who have traveled to Paris, lived in Paris or never even set foot in Paris but dreamed about what it would be like to visit. Among our contributors are: the author of three fashion books, the writer of a recently released book on Rwanda, Amazon best-selling authors, journalists, a personal chef and winners of various blogging awards. "That's Paris" features new talent as well as established writers, but everyone has one thing in common-their stories capture the essence of what it's like to breathe Parisian air.
Check out the full list of contributors and their bios.
Foreword by Stephen Clarke
Authors Michael Attard, Audrey M. Chapuis, Adria J. Cimino, Sarah del Rio, DryChick, Leslie Floyd, Jennie Goutet, Amy Lynne Hayes, April Lily Heise, Vicki Lesage, Elle Marie, Cheryl McAlister, Emily Monaco, Lucia Paul, Didier Quemener, Laura Schalk, Brooke Takhar, Marie Vareille, Frederique Veysset, Lisa Webb, Anna Weeks, April Weeks, David Whitehouse
Author proceeds from sales of "That's Paris" benefit the charity Room to Read, which supports literacy and gender equality in education. Thanks for supporting the cause!
Praise For Talk to the Snail…
"Clarke renders the flavor of life in Paris impeccably: the endless strikes, the sadistic receptionists, the crooked schemes by which the wealthy and well-connected land low-rent apartments…Clarke's eye for detail is terrific."--Washington Post
"Call him the anti-Mayle. Stephen Clarke is acerbic, insulting, un-PC and mostly hilarious."--San Francisco Chronicle
"Combines the gaffes of Bridget Jones with the boldness of James Bond…Clarke's sharp eye for detail and relentless wit make even the most quotidian task seem surreal."--Publishers Weekly
Monday, Apr 5, 2010
Once upon a time, it was fashionable to adore all things French. Those days are gone — remember "freedom fries"? — but author Danielle Trussoni is convinced that there are plenty of Americans who still love French culture, fashion and food. Trussoni recommends three books about France — all with a certain je ne sais quoi. More at NPR.org