The Lemon Tree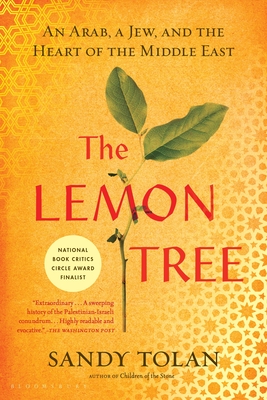 The Lemon Tree
An Arab, a Jew, and the Heart of the Middle East
Bloomsbury Publishing PLC, Paperback, 9781596913431, 362pp.
Publication Date: April 17, 2007
* Individual store prices may vary.
Buy at Local Store
Enter your zip code below to purchase from an indie close to you.
or
Buy Here
Description
In 1967, Bashir Al-Khayri, a Palestinian twenty-five-year-old, journeyed to Israel, with the goal of seeing the beloved old stone house, with the lemon tree behind it, that he and his family had fled nineteen years earlier. To his surprise, when he found the house he was greeted by Dalia Ashkenazi Landau, a nineteen-year-old Israeli college student, whose family fled Europe for Israel following the Holocaust. On the stoop of their shared home, Dalia and Bashir began a rare friendship, forged in the aftermath of war and tested over the next thirty-five years in ways that neither could imagine on that summer day in 1967. Based on extensive research, and springing from his enormously resonant documentary that aired on NPR's "Fresh Air" in 1998, Sandy Tolan brings the Israeli-Palestinian conflict down to its most human level, suggesting that even amid the bleakest political realities there exist stories of hope and reconciliation.
About the Author
SANDY TOLAN is an author, journalist, and public radio documentary producer with extensive experience covering the Middle East. His work from the region has been honored with several prestigious awards. Tolan has written for "The New York Times Magazine, The Nation, Audubon, Los Angeles Times Magainze, USA Today", and dozens of other publications.
Praise For The Lemon Tree…
Praise for The Lemon Tree: "[An] extraordinary book…A sweeping history of the Palestinian-Israeli conundrum…Tolan's narrative provides a much-needed, human dimension to the Israeli-Palestinian conflict. But he also skillfully weaves into this tale a great deal of history, all properly sourced. Despite the complex and controversial nature of the story, this veteran journalist has produced a highly readable and evocative history."--Washington Post
 
"The Lemon Tree: An Arab, a Jew, and the Heart of the Middle East is the story of two people trying to get beyond denial, and closer to a truth they can both live with. By its end, Bashir Khairi and Dalia Eshkenazi are still arguing, talking -- and mostly disagreeing. But their natures--intellectual, questing, passionate and committed--may represent the best hope of resolving one of the most intractable disputes in human history…It is very tempting to write off the Israeli-Palestinian standoff as insoluble. But one lesson of The Lemon Tree is the relatively short span of its history. The conflict between the two peoples is little more than a century old."--Seattle Times
 "No novel could be more compelling...This book… will haunt you long after you put it down. And it will certainly be one of the best works of nonfiction that you will read this year."--Christian Science Monitor
"A graceful, compassionate and unmuddied presentation of Israeli-Palestinian conflict through the lives of an Arab and a Jew, strangers who forge a connection and a reconciliation while never veering from their passionate desires for a homeland."--Milwaukee Journal Sentinel
"Quite simply the most important book I've read for ages...a handbook to understanding the Israeli-Palestinian conflict through a narrative that captures its essence through tracing the connected lives of two extraordinary individuals. Literally the single work I'd recommend to anyone seeking to understand why the conflict remains unresolved, and why it continues to dominate the region."--Time
 "Beautifully told…a very poignant but impressively unsentimental story…It reads like a work of fiction."--Nation
"Sandy Tolan has found a remarkable story, and has told it in all its beauty and sadness."--Adam Hochschild, author of Bury the Chains and King Leopold's Ghost
 "Truly remarkable."--Tom Segev, author of One Palestine, Complete and 1949:  The First Israelis