Bottlemania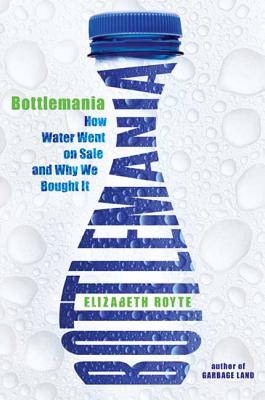 Bottlemania
How Water Went on Sale and Why We Bought It
Bloomsbury Publishing PLC, Hardcover, 9781596913714, 248pp.
Publication Date: May 13, 2008
* Individual store prices may vary.
Shop Local
Enter your zip code below to find indies closest to you.
Description
An incisive, intrepid, and habit-changing narrative investigation into the commercialization of our most basic human need: drinking water.
Having already surpassed milk and beer, and second now only to soda, bottled water is on the verge of becoming the most popular beverage in the country. The brands have become so ubiquitous that we're hardly conscious that Poland Spring and Evian were once real springs, bubbling in remote corners of Maine and France. Only now, with the water industry trading in the billions of dollars, have we begun to question what it is we're drinking and why.
In this intelligent, eye-opening work of narrative journalism, Elizabeth Royte does for water what Eric Schlosser did for fast food: she finds the people, machines, economies, and cultural trends that bring it from nature to our supermarkets. Along the way, she investigates the questions we must inevitably answer. Who owns our water? What happens when a bottled-water company stakes a claim on your town's source? Should we have to pay for water? Is the stuff coming from the tap completely safe? And if so, how many chemicals are dumped in to make it potable? What's the environmental footprint of making, transporting, and disposing of all those plastic bottles?
A riveting chronicle of one of the greatest marketing coups of the twentieth century as well as a powerful environmental wake-up call, Bottlemania is essential reading for anyone who shells out two dollars to quench their daily thirst.
About the Author
Elizabeth Royte is a contributing writer for Outside magazine. She has written for the New York Times Magazine, Harper's, National Geographic, Smithsonian, The New Yorker, and Rolling Stone.
Praise For Bottlemania…
"Fantastic." – Michiko Kakutani, The New York Times
"Ingenious.... Amiably, without haranguing or hyperventilating, this veteran environmental writer has produced what could be, assuming enough people read it, one of the year's most influential books."  - Boston Globe
"Royte's lively investigation of water politics will leave you ashamed to drink out of plastic, uneasy about the tap, and impressed by her ability to synthesize complicated material into such a witty and engaging book."
—Entertainment Weekly
 "An easy-to-swallow survey…. after you read it you will sip warily from your water bottle (whether purchased or tap, plastic or not), as freaked out by your own role in today's insidious water wars as by Royte's recommended ecologically responsible drink: "Toilet to tap.""
—Lisa Margonelli, New York Times Book Review
"Light and easy-to-read narrative…lots of interesting factoids…" —Providence Journal-Bulletin
"At a time of climate change and increasing risks to global water supplies, we must change the way we think about this crucial resource and begin treating it as a public good to be preserved, rather than the equivalent of an oil deposit or timber forest, ripe for corporate exploitation." —New Scientist
"An intriguing look at a totem of the ultramodern, perhaps selfish, way we live now" —Time Out Chicago
"a well-balanced, interesting and instructive book about our fundamental human need to drink water" —Chicago Sun Times
"Seamlessly blending scientific explanation and social observation" —LA Times Book Review
"Bottlemania makes the case that it's not in our interests to let private multinational corporations float their boats on our nation's water. That's not democracy, it's dam-ocracy, and it could damn us all if we let their unquenchable thirst for profit take precedence over our right to clean, safe, free drinking water." —Kerry Trueman, Huffingtonpost.com
"An intrepid, intelligent analysis of Americans' raging thirst for bottled water." —BookPage
"An essential, if somewhat disturbing, read." —VeryShortList.com
"A breezy, accessible history of water through the ages....a good account of the tensions in the little town of Fryeburg, Maine." —New York Post
"A sharp indictment of the bottled-water industry" —New York Observer
"Informative" —Meghan O'Rourke, Slate.com
"Compelling and dynamic" —Library Journal
"Entertaining and eye-opening" —Publishers Weekly
"Bottlemania is eye-opening and informative; you will never look at water – either "designer" or tap – in quite the same way. Royte demonstrates how everything is, in the end, truly connected." —Elizabeth Kolbert
Royte deserves credit for her tenacity and well-balanced approach….Lively investigative journalism." —Kirkus Reviews
One of Entertainment Weekly's 10 Best Non-Fiction Books of 2008