When Wanderers Cease to Roam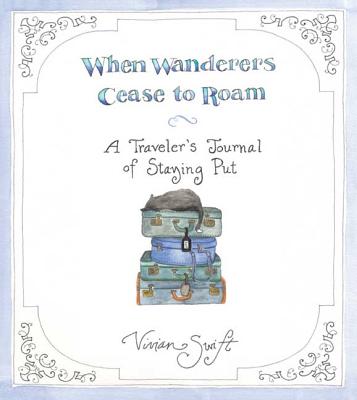 When Wanderers Cease to Roam
A Traveler's Journal of Staying Put
Bloomsbury Publishing PLC, Hardcover, 9781596914612, 199pp.
Publication Date: October 28, 2008
* Individual store prices may vary.
Shop Local
Enter your zip code below to find indies closest to you.
Description
A charming, illustrated celebration of puttering, doodling, daydreaming, and settling down after years on the road.
Following a lifetime of trekking across the globe, Vivian Swift racked up twenty-three temporary addresses in twenty years, finally dropped her well-worn futon mattress and rucksack in a small town on the edge of the Long Island Sound. She spent the next decade quietly taking stock of her life, her immediate surroundings, and, finally, what it means to call a place a home.
The result is When Wanderers Cease to Roam. Filled with watercolors of beautiful local landscapes, seasonal activities, and small, overlooked pleasures of easy living, each chapter chronicles, month by month, the beautifully mundane perks of remaining at home—from curious notices in the local paper to the variations of autumnal clouds. At once gorgeously rendered and wholly original, this delightful and masterfully observed year of staying put shows us how the details of travel and the details of our lives remain with us—how they can nurture and sustain us, and how the past and the present become, in the end, intertwined.
About the Author
Vivian Swift is a freelance writer and former assistant vice president of Christie's Inc. This is her first book.
Thursday, Dec 10, 2009
The end of another year means another giant stack of books you missed during the past 12 months. Nancy Pearl, our favorite librarian, stops by to share recommendations that should keep old, young and 'tween readers content. More at NPR.org