Urban Italian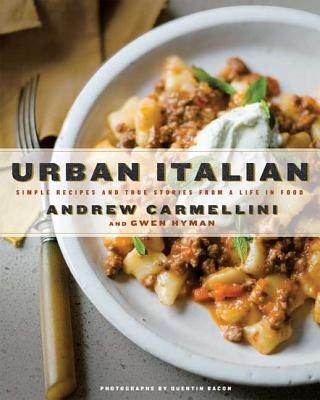 Urban Italian
Simple Recipes and True Stories from a Life in Food
Bloomsbury Publishing PLC, Hardcover, 9781596914704, 311pp.
Publication Date: October 28, 2008
* Individual store prices may vary.
Buy at Local Store
Enter your zip code below to purchase from an indie close to you.
or
Buy Here
Description
The recipes that one of New York's best young chefs cooks in his own kitchen: a cookbook full of soulful, sophisticated food and delicious stories
While waiting for construction to finish on his restaurant A Voce, Andrew Carmellini faced an unusual challenge. After a brilliant career in professional kitchens (including a six-year tour as chef de cuisine at Cafe Boulud), he was faced with the harsh reality of life as a civilian cook: no prep cooks, no saucier, no daily deliveries just him and his wife in their tiny Manhattan-apartment kitchen.
"Urban Italian" is made up of the recipes that result when a great chef has to use the same resources as the rest of us. In these hundred recipes covering four distinct courses, side dishes, and base recipes Carmellini shows how to make stunning, soulful food with nothing more than the ingredients, techniques, and time available to the ordinary home cook. The food is sophisticated but also easy to make: lamb meatballs stuffed with goat cheese; veal, beef, and pork ravioli; roast pork with Italian plums and grappa; fennel with Sambuca and orange; and a honey-flavored pine nut cake.
The book opens with a narrative (written by Carmellini with his wife and coauthor, Gwen Hyman) that traces Carmellini's culinary education a series of outrageous tales that will delight anyone who loved "Heat "or" Kitchen Confidential." Also scattered through the book are short pieces on places and ingredients, placed alongside recipes to shed light on the history and practice of simple, beautiful cooking. This is a book you'll find yourself using all the time to cook from for weeknights and for special occasions, or just to sit down with and read.
About the Author
Andrew Carmellini is the chef and co-owner of Locanda Verde and The Dutch restaurants in New York City, and the author of Urban Italian, named a Best Book of the Year by Publishers Weekly. He has won two James Beard awards and was named as Best New Chef by Food & Wine in 2000. He lives in New York City with his wife, the writer Gwen Hyman.

Gwen Hyman is the coauthor of Urban Italian, and the author of Making a Man: Gentlemanly Appetites in the Nineteenth-Century British Novel. She has written about food, restaurants, and chefdom for Gastronomica, the Robb Report, Food & Wine, and other publications. She teaches about literature, culture, and food at the Cooper Union, where she directs the Center for Writing. She lives in New York City with her husband, the chef Andrew Carmellini.

QUENTIN BACON is a top food photographer whose work has appeared in magazines such as Food & Wine and Real Simple as well as in many cookbooks, including Barefoot in Paris by Ina Garten, Holiday Food by Mario Batali, R.S.V.P. by Nan Kempner, Cakewalk by Margaret Braun, Our Latin Table by Fernando Saralegui, and Dinner After Dark by Colin Cowie. His Web site is www.quentinbacon.com.
Praise For Urban Italian…
A Publishers Weekly Best Book of the Year "Creative yet accessible. Carmellini presents spectacular recipes while opening a window onto his life with food, from his Italian-American boyhood and cooking school to revelations while traveling in Italy and being a top New York chef. Carmellini gives [the recipes] an idiosyncratic touch that heightens flavors and makes them work for the modern cook at any skill level. Carmellini shows why he is considered one of the country's best young chefs, and a natural teacher."—Publishers Weekly (starred)
"Andrew Carmellini's Urban Italian is that rare breed of cookbook: written by a skilled, top-tier professional, yet at all times accessible, unintimidating, and inspiring to the home cook. In short, it's everything a cookbook should be. The conversational style provides both a thrilling introduction and the feeling, while cooking, that the chef is standing next to in the kitchen, forgiving your mistakes, urging you along, painlessly expanding your reservoir of knowledge. In a world awash with Italian cookbooks, this one's a must-have."—Anthony Bourdain
"Andrew Carmellini is an enormously talented chef who brings a distinctive style and voice to his restaurant. Urban Italian captures  that style and voice for the home cook with intriguing recipes—and also with great stories about the cook's life, written with a candor and bravado not typically found in chefs' cookbooks. A terrific book."—Michael Ruhlman
"Andrew's passion for Italy is contagious. Urban Italian is entertaining, informative, and witty." —Eric Ripert
"This would be a great book if it did nothing more than faithfully capture between covers the great food served at A Voce. But, marvel of marvels, the modest-but-confident chef I've admired for so long for his cooking can also write his ass off. Urban Italian is every bit as intimate, profane, soulful, and amusing as Anthony Bourdain's Kitchen Confidential. To paraphrase Andrew himself on the subject of cooking, this book engages your senses, takes your mind off your day-to-day problems, and makes both the reader and (I'm pretty sure) the writer happy." —Sara Moulton
"Like many Italian American chefs, myself included, Andrew had to go through France to get to Italy. Urban Italian takes the reader on that journey. Fabulous recipes, of course, but just as important are the stories that informed the heart and soul of this great chef." —Tom Colicchio