Golden Gate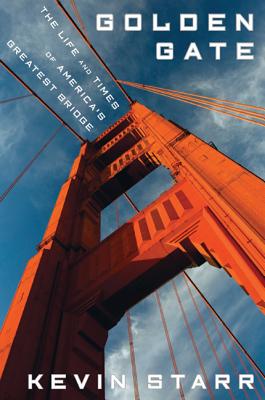 Golden Gate
The Life and Times of America's Greatest Bridge
Bloomsbury Publishing PLC, Hardcover, 9781596915343, 215pp.
Publication Date: July 6, 2010
* Individual store prices may vary.
Buy at Local Store
Enter your zip code below to purchase from an indie close to you.
or
Buy Here
Description
The Golden Gate Bridge links the urbanity of San Francisco with the wild headlands of Marin County, as if to suggest the paradox of California and America itself the place that Fitzgerald saw as the last spot commensurate with the human capacity for wonder. The bridge, completed in 1937, also announced to the world America's engineering prowess and full assumption of its destined continental dominance. The Golden Gate is a counterpart to the Statue of Liberty, pronouncing American achievement in an unmistakable American fashion. The nation's very history is expressed in the bridge's art deco style and stark verticality.
Kevin Starr's "Golden Gate "is a brilliant and passionate telling of the history of the bridge, and the rich and peculiar history of the California experience. The Golden Gate is a grand public work, a symbol and a very real bridge, a magnet for both postcard photographs and suicides. In this compact but comprehensive narrative, Starr unfolds the hidden-in-plain-sight meaning of the Golden Gate, putting it in its place among classic works of art.
About the Author
Kevin Starr is California State Librarian and University Professor at the University of Southern California. He is the author of the acclaimed multi-volume series "Americans and the California Dream" (1973-1998). Richard J. Orsi is Professor of History at California State University, Hayward, and editor of "California History." He is the coeditor of "Contested Eden: California before the Gold Rush" (California, 1998) and "A Golden State: Mining and Economic Development in Gold Rush California" (California, 1999).
Praise For Golden Gate…
"Gracefully written… Starr's volume, showing how he and others appreciate the bridge in its multiple roles in engineering, transport, and artistry, is a loving tribute."—Commercial Dispatch
"Starr delights as much in the details of history and on-going maintenance as he does in the contours of the bridge itself."—San Francisco Book Review
"Kevin Starr seems particularly well equipped to write a biography of that famous orange bridge. The author of more than half a dozen histories of California, Mr. Starr has written frequently about the myths and metaphors that festoon the Golden State, and he seems to instinctively understand the place that the Golden Gate Bridge has come to occupy in the national imagination as a symbol of American enterprise and the gateway to the Pacific. Mr. Starr does an agile job of situating the tale within the larger context of San Francisco's efforts to rebuild after the Great Earthquake of 1906 and the nation's march from the Roaring Twenties into the slough of the Great Depression."—Michiko Kakutani, New York Times
"Starr eloquently retraces this industrial achievement from planning and construction up to the present day with its $6-and-up tolls.  He tells the story behind each of the bridge's masterminds -- the bankers, builders, egos and engineers -- and also devotes a whole chapter to a tragic side of the bridge's history as a frequent site of Bay area suicides."
—Washington Post
"Such a broad perspective is but one of the many pleasures to be had reading Kevin Starr's engrossing new history, Golden Gate: The Life and Times of America's Greatest Bridge.  He tells the rich story of the massive public works project in a tidy 200 pages. It makes for a wonderful and never sluggish overview—complete with fine reproductions of paintings and photographs—that nevertheless contains many enlightening details. A small wonder in its own right."—San Francisco Chronicle
"An ecstatic meditation on the complicated drama of the Golden Gate Bridge and a chronicle of its history."—Wall Street Journal
"A necessary salve for a once-golden state"—The New Republic
"Starr isn't seduced by the romantic or melancholic image of the fog-shrouded structure so much as committed to celebrate—with great acumen and an oft-oratorial voice that unites broad yet vital references in a turn of phrase—its greatness. His book is as well-ordered and constructed as its subject, with cleanly presented chapters outlining the bridge's relationship to subjects such as politics, money, and design, saving the more ambiguous—yet also perhaps richest?—areas of suicide and art for last."—San Francisco Bay Guardian
"Starr has focused his impressive talents on a book-length study of a single entity—the Golden Gate Bridge. In so doing, he demonstrates both that the bridge is deserving of such lavish treatment and that he himself is well worthy of his glorious subject. Others have done it before, but not with the unique combination of poetry and practicality that enliven Golden Gate: The Life and Times of America's Greatest Bridge. Starr's compact treatment (less than 200 pages) is part lyrical homage to an inspiring landmark and part encyclopedic account of the steps necessary to design, approve and construct one of the most ambitious public works projects ever undertaken."—Contra Costa Times
"An informative and easily digestible chronicle."—Booklist
"A fascinating read."—Failure magazine
"Accurately illustrated, readable, and rewarding. Starr's stellar book encompasses politics, finances, design, art, photography, film, construction, history, bibliography, and even suicide, which occurs about every other week. Highly recommended…an exciting history of a grand architectural landmark."—Library Journal
"A jeweler's assessment of the Brooklyn Bridge's west coast rival … Starr neatly appraises the Golden Gate's every facet, attempting to judge its qualities and to convey its essence, its singular 'bridgeness.' In design and execution, every bit as worthy of the bridge it celebrates."—Kirkus Reviews
"With signature panache, Starr offers a history as streamlined and elegant as the great bridge itself."—Mike Davis, author of City of Quartz and Ecology of Fear
"The loving and meticulous manner in which Kevin Starr has constructed this paean to one of the world's most admired architectural icons is everything that we have come to expect from the creator of the California Dream series, and more. This book is the ideal companion to the bridge, magisterial in authority, intimate in detail and affectionate in tone: an entirely befitting classic."—Simon Winchester, author of The Man Who Loved China and The Professor and the Madman
"Kevin Starr has written a delightful and most readable recounting of the epic story of the Golden Gate Bridge, covering in a remarkably concise way its origins and creative financing, its design and construction, and its status of one of the world's most iconic structures."—Henry Petroski, Aleksandar S. Vesic Professor of Civil Engineering and professor of History, Duke University, and author of Engineers of Dreams and The Essential Engineer
"When the great history of California is written … oh wait. It already was. By Kevin Starr, of course. In Golden Gate, Starr focuses all that erudition and wit on the perfect subject. Nobody does it better. Nobody could."—Virginia Scharff, University of New Mexico, author of Twenty Thousand Roads: Women, Movement and the West and Taking the Wheel: Women and the Coming of the Motor Age
"We see [the Golden Gate Bridge] all the time, but how many of us know its rich history?"—
San Francisco
Chronicle