Robertson's Book of Firsts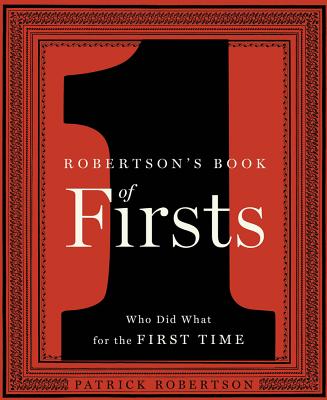 Robertson's Book of Firsts
Who Did What for the First Time
Bloomsbury Publishing PLC, Hardcover, 9781596915794, 569pp.
Publication Date: November 8, 2011
* Individual store prices may vary.
Buy Now
or
Shop Local
Enter your zip code below to purchase from an indie close to you.
Description
Patrick Robertson's compendium of inventions, breakthroughs, and other "first" events is a stunning achievement of over fifty years of research, collecting, and writing. Robertson writes with charm and fluency on a massive range of topics-the first computer, the first department store, the first black head of state (it's not who you think), and a seemingly limitless array of others. The United States, in particular, has been a cradle of innovation-44 percent of modern innovations, by his calculation-and Robertson has identified a first time in America for each entry. Comprehensive yet carefully curated, "Robertson's Book of Firsts" catalogs watershed events of social relevance. It includes major achievements, like the first women to serve in a regular army (bravo, Canada, and would you believe as early as 1906?), but not mere curiosities, like the first women to serve disguised as men. The result is a catalog of useful inventions and beginnings of trends, an index of American and global culture of a kind you can't get anywhere else. Handsomely designed, elegant, and effortless to read, this is both a work of essential reference and a beautiful gift for history buffs, scientists, inventors, and anyone with an inquiring mind.