American Terroir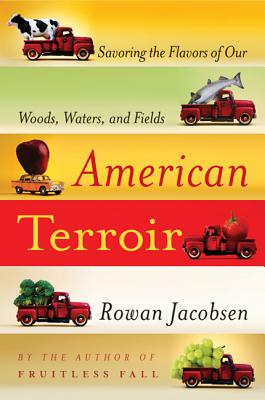 American Terroir
Savoring the Flavors of Our Woods, Waters, and Fields
Bloomsbury Publishing PLC, Hardcover, 9781596916487, 272pp.
Publication Date: August 17, 2010
* Individual store prices may vary.
Not Currently Available for Direct Purchase
or
Shop Local
Enter your zip code below to purchase from an indie close to you.
Description
Why does honey from the tupelo-lined banks of the Apalachicola River have a kick of cinnamon unlike any other? Why is salmon from Alaska's Yukon River the richest in the world? Why does one underground cave in Greensboro, Vermont, produce many of the country's most intense cheeses? The answer is terroir (tare-WAHR), the "taste of place." Originally used by the French to describe the way local conditions such as soil and climate affect the flavor of a wine, terroir has been little understood (and often mispronounced) by Americans, until now. For those who have embraced the local food movement, American Terroir will share the best of America's bounty and explain why place matters. It will be the first guide to the "flavor landscapes" of some of our most iconic foods, including apples, honey, maple syrup, coffee, oysters, salmon, wild mushrooms, wine, cheese, and chocolate. With equally iconic recipes by the author and important local chefs, and a complete resource section for finding place-specific foods, American Terroir is the perfect companion for any self-respecting locavore.
About the Author
Rowan Jacobsen is the James Beard Award- winning author of A Geography of Oysters and Fruitless Fall. Jacobsen's writings on food, the environment, and their interconnected nature have appeared in the New York Times, Wild Earth, Harper's, Eating Well, and Newsweek. He lives in rural Vermont with his wife and son.
Praise For American Terroir…
One of Library Journal's Top 10 Books of 2010 One of Booklist's Top 10 Food Books of 2010 One of Kirkus Reviews' Best Books for Foodies of 2010 "One cannot help but get a little hungry while perusing Jacobsen's enchanting book. Part manifesto, part travelogue, part science lesson, and part cookbook, this saliva-inducing work is perhaps best described as erotica—a sensual, titillating, sometimes lewd journey into the best foodstuffs of America... It also serves to pair the pleasure of eating with a reverence for where our food comes from... Jacobsen's love of the earth's bounty is not merely sensual but yields deeper moral insights about the world."  -New Republic "Jacobsen is a seasoned food writer. He balances the history and regional significance of each of these ingredients with his own experiences in consuming them. One gets a real sense of rediscovering one's home turf, and seeing North America's edible offerings through new eyes. It's easy to forget that we live in an expansive country full of different climates and food histories. Books like American Terroir can redirect our attention back home, and underline the importance of place in food production." - Serious Eats "In a dozen informative and often funny essays spanning breakfast to dinner, Jacobsen deploys an open mind as he travels across North America and Mexico… Beyond issues of slow food and sustainability, Jacobsen's affable, nerdy DIY spirit challenges readers to rethink their relationship to food." - Publishers Weekly "A locavore and James Beard Award–winning food writer adapts the French wine-growing concept of terroir, 'the taste of place,' to champion a variety of foods from the Western hemisphere…His exuberance, joy in his pursuit and playful diction combine to spice the literary dish most appealingly…Savory information presented on a stylish plate." - Kirkus Reviews "Jacobsen eases readers into discussions of chemistry, history, geography, and gastronomy with cavalier charm and worldly wit... Inspirational and highly engaging." - Library Journal "[Jacobsen] discovers the best avocados in Mexico's Michoacán. He finds superior cheeses and maple syrup in Vermont. Northeast Canada yields both mussels and mushrooms. And Jacobsen sources the world's most esteemed coffee beans from the mountains of Panama. In his travels to these far-flung farms, Jacobsen shows that it is as much farmers' dedication to their profession that counts as the soil itself." - Booklist "If foodies have 'organic,' 'local' and 'slow,' then wine-lovers can claim 'terroir' as their buzzword. Yet the use of terroir needn't be so restricted. In American Terroir... Rowan Jacobsen brings the concept out of the wine cellar and onto the table... Jacobsen is hardly the first to broach the subject of artisanal and local food, although he might be the most unpretentious. His message is a simple reminder that we should pay attention to where our food comes from, not necessarily from faddish motivations or environmental concerns... Food simply tastes better, he shows, when it doesn't come in a shrink-wrapped package shipped from halfway across the world.... His book is, he writes, a romance about good eating, and what makes eating good, and most of all, a love story about our vast and varied land." - Zócalo "Jacobsen... has a way with words. Whatever he writes crackles with wit, whether he's describing the flavor of a rare honey or an environmental disaster...Jacobsen is wildly successful in inspiring desire for his terroir posterfoods... Readers of American Terroir will feel... compelled to get out there and taste the fruits of our own regions." - Seven Days (Burlington, VT) "This book and its stories are mouthwatering... Along with stories that give you bits of history and make you appreciate, for example, Mesoamerican chocolate, you also get recipes for mole... It helps keep the food from being something you fetishize and admire and makes it something you eat and enjoy." - The Hippo (Manchester, NH)