Jesus in Beijing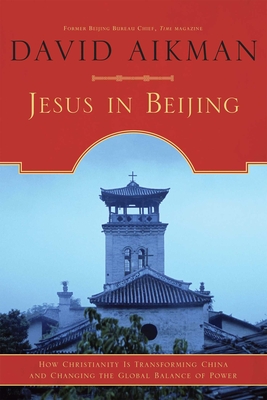 Jesus in Beijing
How Christianity Is Transforming China and Changing the Global Balance of Power
Regnery Publishing, Paperback, 9781596980259, 418pp.
Publication Date: December 1, 2006
* Individual store prices may vary.
Buy Now
or
Shop Local
Enter your zip code below to purchase from an indie close to you.
Description
Politics are being transformed by religion, namely in China--within the next thirty years, one-third of this potential superpower could be Christian.
If this religious transformation occurs, China would be one of the largest Christian nations in the world.
David Aikman, former Beijing bureau chief for "Time," unveils this spiritual revolution, detailing the impending political-religious conversion of the People's Republic of China and potential overthrow of its Communist Party through "Jesus in Beijing: How Christianity is Transforming and Changing the Global Balance of Power."

About the Author
David Aikmanis former Senior Correspondent forTIME magazine. He has written numerousTIMEcover stories, including three "Man of the Year" profiles. Aikman has also written for theWeekly StandardandChristianity Today. He is the author ofGreat Souls, When the Almond Tree Blossoms, Jesus in Beijing, and the bestsellerA Man of Faith: The Spiritual Journey of George W. Bush.