Rollback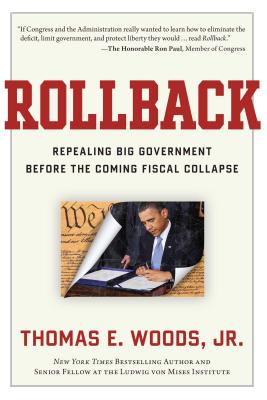 Rollback
Repealing Big Government Before the Coming Fiscal Collapse
Regnery Publishing, Hardcover, 9781596981416, 232pp.
Publication Date: February 7, 2011
* Individual store prices may vary.
Buy Now
or
Shop Local
Enter your zip code below to purchase from an indie close to you.
Description
Thought the last financial crisis was scary? Just waitit's going to get worse

America is on the brink of financial collapse. Decades of political overpromising and underfunding have created a wave of debt that could swamp our already feeble economy. And the politicians' favorite tricksraising taxes, borrowing from foreign governments, and printing more moneywill only make it worse. Only one thing might save us: Roll back the government.

In Rollback: Repealing Big Government Before the Coming Fiscal Collapse, Thomas E. Woods, Jr. explains that we may still have a chance to avert total economic disasterbut only by completely changing our understanding of government. With bracing candor, he dissects just how the political class has nearly destroyed America's economy. In Rollback, you'll learn:

Why practically everything you've been taught about government and the economy is wrongthe product of liberal progovernment propaganda
How the Federal Reserve helps create crises and slows recovery
Why big business is no ally in rolling back government and actually wants and needs big government intervention in the marketplace
How current policies, if unchecked, will lead to the collapse of the dollar
How government policies have driven the skyrocketing costs of health care
Why retirement will be a pipe dream for the next generation
How the coming collapse can be turned to your advantageand the advantage of all who believe in liberty and limited government

Thanks to decades of politicians playing kick the can down the road, we and our children are facing economic Armageddon. But this crisis could help us see government for what it really isan institution that has seized our wealth and taught our children to honor it as the source of all progress. The good news is it's not too late to roll back governmentand the opportunity to do so is now.
About the Author
Thomas E. Woods Jr. is the New York Times bestselling author of 12 books, creator of the EWTN program "The Catholic Church: Builder of Civilization," and host of The Tom Woods Show, a weekday podcast. Find out more at TomWoods.com.