You're Teaching My Child What?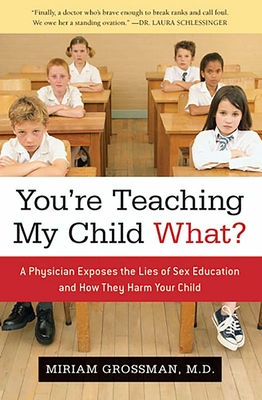 You're Teaching My Child What?
A Physician Exposes the Lies of Sex Ed and How They Harm Your Child
Regnery Publishing, Hardcover, 9781596985544, 246pp.
Publication Date: August 4, 2009
* Individual store prices may vary.
Buy Now
or
Shop Local
Enter your zip code below to purchase from an indie close to you.
Description
If you think sex education is still about the birds and the bees, you're wrong. And it's not about science either. If you're a parent with children in the public school system, you need to know what's really going on.In "You're Teaching My Child What?" Dr. Miriam Grossman rips back the curtain on sex education today, exposing a sordid truth. Instead of teaching our children the facts of life, sex educators are lying to them, ignoring medical fact in favor of politicized, and dangerous, propaganda that could ruin your child's life forever. In "You're Teaching My Child What?" you'll learn what sex educators don't want you to know:
* Why the discredited founder of "sexology"--dead for half a century--has more influence on sex education than today's most eminent neurobiologists
* How information your child gets about common infections like herpes, warts, and Chlamydia is whitewashed
* When "safe sex" isn't safe: why condoms won't protect your teens from some of the most serious sexually transmitted diseases
* How sex educators try to normalize fringe behaviors--ignoring the health risks to your children
The sex education establishment would like to lull you into thinking that they know best--but the epidemic of sexually transmitted infections in young people today is testimony to a system that's gone mad.

About the Author
Miriam Grossman, MD, has been a psychiatrist at UCLA Student Psychological Services for more than ten years and has worked with students for twenty years. She received her BA from Bryn Mawr College, her medical degree from New York University, and her psychiatric training through Cornell University Medical College. She is board certified in child, adolescent and adult psychiatry.