Secret Weapon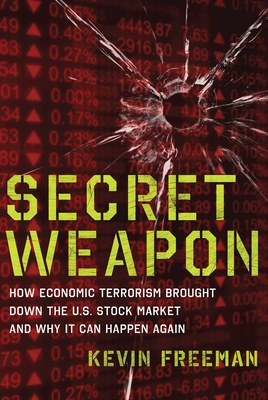 Secret Weapon
How Economic Terrorism Brought Down the U.S. Stock Market and Why It Can Happen Again
Regnery Publishing, Hardcover, 9781596987944, 287pp.
Publication Date: January 16, 2012
* Individual store prices may vary.
Buy at Local Store
Enter your zip code below to purchase from an indie close to you.
or
Buy Here
Description
Who's really to blame for America's catastrophic financial meltdown and devastating national recession? Contrary to what the Occupy Movement" might tell you, it's not just greedy Wall Street executives (though they certainly earned their share of scorn). It's not just failed regulation (even though Washington has failed miserably, both Republicans and Democrats, to protect us). As one of America's top financial professionals reveals in this shocking new book, the failures of Wall Street and Washington have opened us up to economic warfare, with our foreign enemies exploiting our lurking financial weaknesses.

In Secret Weapon, Kevin D. Freeman unveils how all the evidenceincluding motive, means, and opportunitypoints to America's foreign enemies as deliberately pushing our economy over the brink.
In this stunning exposé, Freeman reveals:

The evidence linking Communist China and Islamic finance to economic warfare against the United States
Why initial reports linked the 2008 stock market crash to economic terrorismand why the Obama administration continues to look the other way
How the financial attack unfoldedand how the perpetrators tried to cover their tracks
Why you should expect another financial attack even more devastating than the last oneand how you can protect yourself from it

In Secret Weapon you'll learn what our enemies know and what the Obama administration has chosen to ignorethat our financial system is profoundly vulnerable to financial terrorism, and that we are being targeted for further and even more destructive attacks by our enemies, who want to cripple America as the world's leading economy. If you want to protect yourself and protect our country, then you need to read Secret Weapon to understand how we have entered a new age of warfarean age our enemies want to make the Dark Ages of the United States.
About the Author
Kevin Freeman is a military brat and has been in and out of the comics industry for over 15 years as a fan, retailer, editor and writer. Kevin has written numerous pieces for Wizards of the Coast, and has written comics stories for Shrek, Richie Rich, GlobWorld, and the UFO Anthology. His magnum opus is the twice-weekly webcomic SubCulture, which debuted in 2007 as a four-issue comic series and has updated on the web continuously since February 2008. It came to an end in October 2012 after 501 strips. He also was the Editor for the now-defunct Comics Now! Magazine.
Praise For Secret Weapon…
Freeman explains persuasively and clearly why we may be beginning the third act of a monetary and fiscal tragedy. You don't care about dark pools, huge Middle-Eastern sovereign wealth funds, naked short selling, and bear runs? I'm afraid you will, and rather soon."
—R. James Woolsey, Chairman of the Foundation for Defense of Democracies and former Director of Central Intelligence

Every American needs to understand how our financial markets have been manipulated by people who want to destroy the nation and how they can do even greater damage in the future. This book is a critical read for everyone."
—William G. Boykin, Lt. Gen. USA (ret), former Commander of U.S. Army Special Forces and founding member of Delta Force

Kevin Freeman's alarming proposition on economic warfare merits attention from those at the highest levels entrusted with our nation's security. It is incumbent on the U.S. intelligence and defense community, financial regulators, and those with advanced financial acumen to assess and address this modern security vulnerability. Warfare continues to evolve. As the United States remains vigilant against emerging threats, we must appreciate newfound challenges to longstanding assumptions about how our enemies could exploit our financial markets with potentially devastating consequences for our nation."
—Congressman Bill Posey

Kevin Freeman has done an exceptional job working with open source financial data. This is a superb effort to expose extreme vulnerabilities to our financial system. With today's international markets in such a fragile and volatile state, Freeman's work deserves serious reflection. To do so would cost little. To dismiss it outright might cost us everything."
—Thomas W. O'Connell, former Assistant Secretary of Defense (Special Operations) (2003-2007) and former member of the NASDAQ Public Board of Directors